Hey there, Heather here.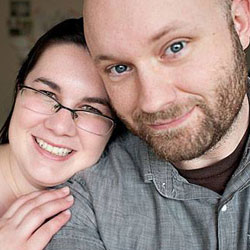 I'm so glad you've dropped by my little corner of the internet. 🙂
I love to write. And take pictures. And drink inordinate amounts of coffee.  I'm married to an awesome guy named Mike, and we have four girls ages nine, seven, three, and one. We homeschool, generally in a very unschooling style, and live an unglamorous, laid-back, geeky kind of life.
I'm a work from home mom. I'm writing a young adult fantasy series. I'm also a mainstay on the Homeschool Review Crew, a book blogger for Zonderkidz, and I write reviews for The Old Schoolhouse® Magazine. And I feel like I should cleverly work in that I'm a Christian and a Hufflepuff (notice the lack of cleverly working that in – oops). I love reading, dancing, binge-watching Gilmore Girls or Psych, and playing Guild Wars. I also have a love-hate with our two cute/evil cats Kida and Dash. 😉

My oldest girl is Evergreen.  (In case it's not obvious, that's a nickname – Also, her nickname used to be Artist until she said she wanted to be called Evergreen, so if you're looking through old posts and see me call someone Artist, that's who I'm talking about).  She's 9 going on sixteen.  She's a bookworm and a gamer, and is incredibly smart! She also loves to draw and sew and play piano and jam out to Sabrina Carpenter. She plans to be a Singer/Songwriter when she grows up. I love hanging out with her! She also has Sensory Processing Disorder, but you'd never be able to tell.
Next is Boo. She's seven and both yearns to be older and still wants to cuddle and snuggle just like she did when she was a baby. She is the epitome of a princess tomboy. From the time she was two years old she would get all decked out in a tutu and tiara and jewelry to go play outside with dirt and sticks and rocks and find bugs to catch! And she's my super imaginative, free-spirit, flower child who bounces off the walls! She wants to be a chef when she grows up. I love cooking with her and eating the delicious treats she bakes.
Then there's Smiles. She's three, and the most charming, joy-filled little kid ever. She's also very passionate, dramatic, clever, silly, mischievous, and super giggly! She loves to sing and be a big helper. She says when she grows up she wants to be happy.
Our youngest girl is called Apple. She's also our last, and watching her grow up is incredibly bittersweet. She currently loves eating blueberries, giving high-fives, singing, climbing everything, and sweet sweet snuggly cuddles!
I think that's about it. Oh, the title of my blog was inspired by one of my favorite episodes of Avatar: The Last Airbender. "Love each other, respect all life, and don't run with your spears." 
Aaaaand that's a wrap! Hope you had some coffee to keep you awake through all that. I'd love to get to know you – feel free to comment on any and all of my posts, and connect with me through social media (Facebook and Instagram are where I'm most active).  Thanks for stopping by! 😀