We don't really often do anything big for Valentine's day. Since we have four girls and pink and red and hearts and lace and such are right up their alley, we usually make it a fun day for them. I have a box of girly decorations I put up and we give each of the girls a little gift. This year Mike is planning on making fondue for dinner, and we'll probably watch a movie or something. Mike and I don't exchange gifts, and we've only gone on a date once in recent years…restaurants are far too crowded on that day for our taste. But since we get a free pass on being mushy this week, here's a quick post I wrote up of just a handful of the many ways Mike shows me he loves me!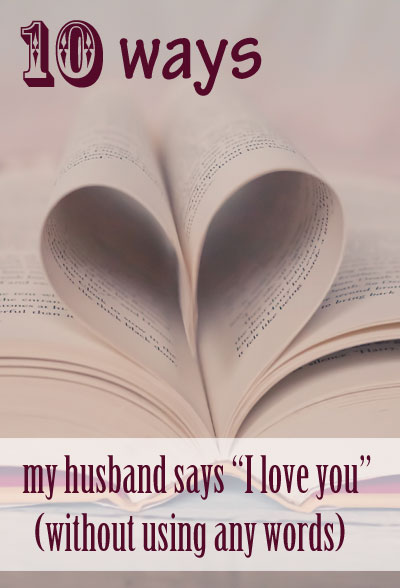 1. He sits in the dark living room with me when I have to get up with Apple at midnight.
2. He enables my coffee addiction.
3. He does the grocery shopping.
4. He enables my book addiction.
5. He knows my favorite flavor of coffee and buys it for me.
6. He goes to get me Starbucks in the afternoon when he knows it's been a long day.
7. His alarm to get up and go to work says "do it for her."
8. He notices things I need and gets them without me asking – like new lip balm when Smiles takes a bite out of mine. 
9. He cleans my puke off the entire bathroom when I get a stomach bug and don't make it to the toilet in time…at two in the morning.
10. He gets audio books of my favorites and listens to them on his commute so we can discuss them.
11. He proofreads my blog posts for me because he knows how much I hate for my posts to have typos. 
10+ ways I know my husband loves me