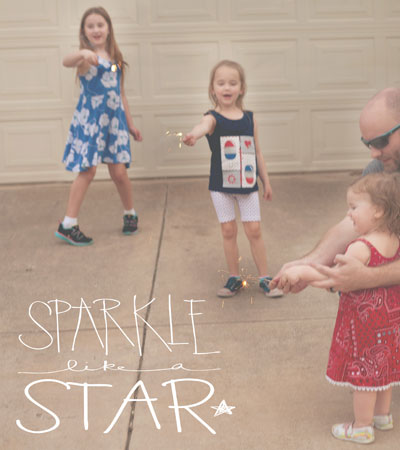 I LOVE  the 4th of July!!!! 
I mean, it's 2 days before my Birthday, and therefore just one big early celebration of my  special day, right? 😉
That said, my favorite was to enjoy the festivities is to make things as low key as possible.
We always do sparklers…twice. Once at dusk so I can take pics, and again after it's all the way dark. Then we watch the neighborhood fireworks from our yard, while eating an assortment of Little Debbie snacks — primarily Star Crunch! Yum!
I also make sure to spray us all down with my DIY bug spray (20z spray bottle + 20 drops of Purification essential oil + water) because otherwise mosquitoes eat me up in a heartbeat!
Sometimes earlier in the day we'll do a fun craft or make a cute snack. Here's a round up of 5 of my favorite 4th of July tips, snacks, and activities from around the web.
Firework Painting – fun simple craft using pipe cleaners.
Flag Snack – using white chocolate pretzels, strawberries, and blueberries.
Tabletop Smores – made by putting charcoal in a foil lined terra cotta pot.
Sparkler Shield – use a plastic cup to protect little hands.
Patriotic Paper Straw Bracelets – made from pipe cleaners and cut up straws.
How do you celebrate the holiday? I'd love to hear your favorite ideas to make the day fun!