Hey friends. This summer has been super busy for me, so I was excited when Zonderkidz sent me a free copy of 5-Minute Adventure Bible Stories to review. This lovely book written by Catherine DeVries and illustrated by Jim Madsen is filled with over thirty Bible stories with bright, colorful illustrations. As the name implies, each of these fun stories can be read in five minutes or less making it the perfect fit for my hectic schedule.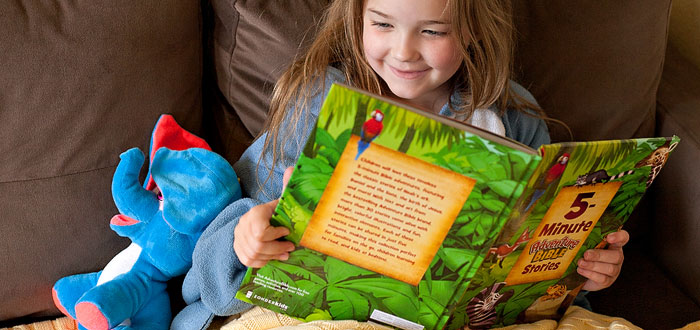 I've been reading this book to my two middle daughters and they love it! Boo (in the picture) always begs me to read this to her multiple times throughout the day, not just at bedtime…and how could I say no? I love that each story doesn't take long, so I can take a short break from whatever I'm working on and read one to her easily!
We've been enjoying this book a lot. Thanks Zonderkidz!
5-Minute Adventure Bible Stories