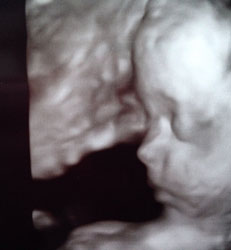 Hey guys! Due to a super minor pregnancy complication (don't worry, everything's fine) we've scheduled a c-section for March 14th. That's this coming Monday!!! As in 4 days from now!!! Squeal!
I'll try to have someone post to my Facebook page for me once she's here and share her birth stats and whatnot.
I may not be posting super-long posts for awhile…unless she's just a super easy baby and our transition from 3 kids to 4 is super simple, and all the things just work out perfectly for me to be able to blog a lot….so, um, yeah, I'll probably write a lengthy post again sometime in 2017. Have a great rest of the year.
(Kidding, mostly…but seriously, give me at least six weeks months to get back into the swing of things. Pretty please. Love you guys!). 😀