If you've been around here long, you've probably seen me rave about CTCMath, so I was ecstatic to receive a free one-year subscription to the Family Membership to review, and to be able to share with you that right now homeschoolers can get 60% off + 6 bonus months. 🙂

CTCMath is a self-paced online math curriculum for kindergarten through high school. Each lesson includes short, simple video instruction followed by practice problems, and optional printable worksheets and one page summaries of each lesson. There are also diagnostic tests for each area of study, and an easy to use parent section where you can monitor your child's progress, assign tasks, and view weekly reports.
With our membership we have access to ALL grades, so we can hop down a grade if there's an area of concern that needs some review, or even whiz through more than one grade a year if that's you kid's cup of tea.
We've been using this program ever since we had the opportunity to review it last year. When our free subscription ran out, I purchased another eighteen months, because I was done with messing with other math curriculum. This one works for us, and if it ain't broke, don't fix it. 😉
This year Evergreen is doing fifth grade math, and Boo is doing second grade. They both like like that the instructional videos are easy to understand and not any lengthier than absolutely necessary to get the point across. They also give you the option to scroll forward and backwards in them to easily skip past portions you already know, or go back to hear again something that was tricky. The practice questions make sense, too. We've been using this quite awhile now and still not encountered issues with my girls being confused because the problems are worded oddly or overly complicated for no reason, like we've experienced with some other programs.
I really appreciate not having to step in and try to figure out a discombobulated hot-mess of a lesson only to get so frustrated myself that I just can't even.
Bottom line – I love how straightforward everything is.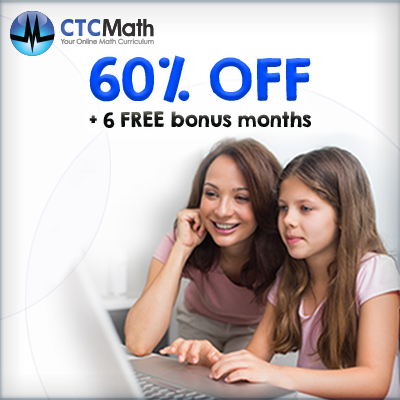 Last year, one of the main things Evergreen was working on was getting her times tables down, so she spent quite a bit of time playing their times tables game that's a fun way to strengthen her fluency with those. (There's also a puzzle that involves swapping blue and red pieces that I've yet to solve, but it's fun to try, even for me, and a speed skills game that challenges you in addition or subtraction.)
One feature that I was thrilled with when Boo was doing first grade was that the questions have a little speaker she can click to have the computer read her any written instructions etc. so even though she wasn't reading strongly yet, she was still able to do her math work independently.
CTCMath is currently offering 60% off + 6 bonus months, just follow this link, and  you can get a free trial of the first lesson of each topic by clicking here. 
As I've said before, I highly recommend this program. It's been a life saver for us. 😀
Be sure to hop over to the Homeschool Review Crew link-up to see what others have to say.