Third time's the charm, I guess. We started school one week early because the girls were BEGGING to, and our first day (week at this point) was actually great! (1st day of Kinder was awful, and last year was ok….thus third time's the charm….pretty sure that only made sense in my head. 😉 )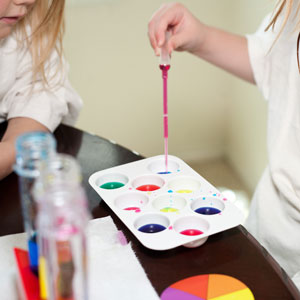 I'd asked Artist what would make school awesome for her this year and the stuff she asked for was totally doable.
– Request #1 – Lots of fun science!
We got each of the girls their own science kit, and they're sooo excited to use them each day they jump out of bed at the crack of dawn to get their computer school done so we can do science at 8:30 on the dot (the earliest I told them I'd be willing to start; best bonus of homeschool is no early mornings required).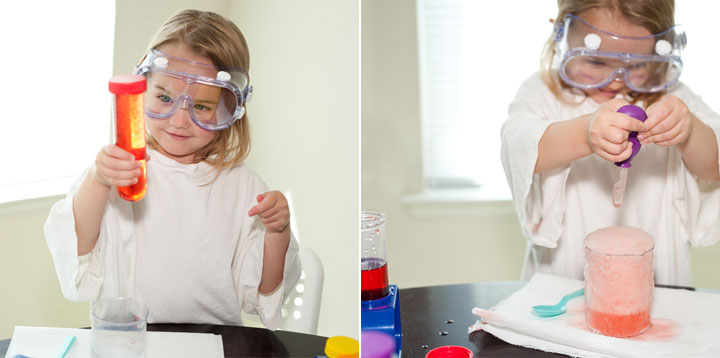 Request #2 – Learn to Sew.
I hadn't really planned on letting a 7 year old loose with a real needle yet, but her dream is to be a fashion designer, and she's always careful, so I figured why not.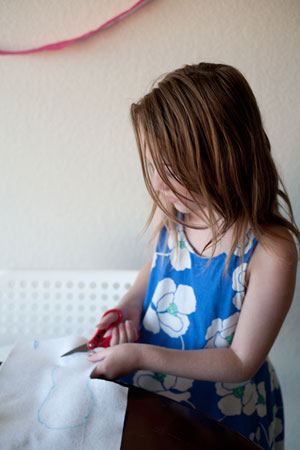 Best.Decision.Ever.
I mean, wow, she took to it like pumpkin flavor to ALL THE THINGS in the fall. 😉
The book I selected (Sewing School: 20 Sewing Projects Kids Will Love to Make) starts with a bunch of basic lessons: how to thread a needle, tie a knot, make a bobbin…etc.
I knew we would go through a few of these a day. What I didn't expect was how confident she would feel after mastering each step, and how quickly she would burn through all the lessons. She spent probably 8 hours sewing on the first day and learned everything in the book, except how to make a casing.
Fortunately there are lots of patterns and project ideas in the book as well, so there's still plenty for her to do.
I also didn't expect her to immediately start coming up with, and executing, her own creative ideas about things she could sew.
I'm thinking by mid-year I may need start her on a kid-friendly sewing machine. (I've been trying to figure out how to do that…if any of you guys have taught a kid how to use a sewing machine I'd love some tips!)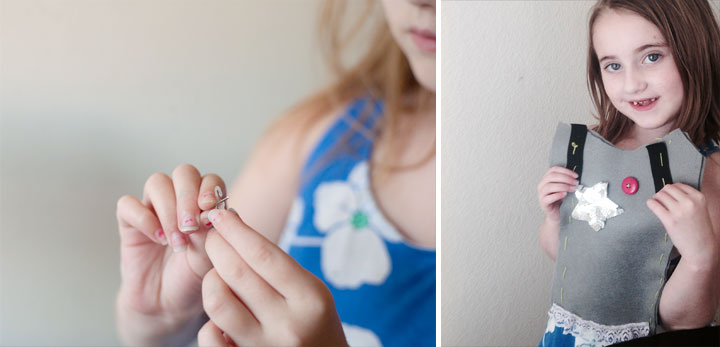 Request #3 – Lots of reading. Which we were doing all summer and I'm super happy to continue.
Also, piano lessons which she'd already told us she wanted, and we're blessed to have an awesome friend who teaches piano so we're starting those next week. And she wants a book on how to draw dresses which I haven't gotten quite yet, but she's been too busy sewing to notice.
All in all, she's sooo excited about the things she asked for that she hasn't complained once about the things I've said she has to also do. In fact, each night as part of our bedtime routine, we tell each other something that was bad about our day, something that was good, and our hope for tomorrow. This week her's has been something along these lines each day, "Bad was not having more time for school, good was doing lots of fun school, and I hope for tomorrow that we have another great school day!" Be still my heart!!!
I'm totally savoring this week on the off chance that we ever have weeks that aren't all sunshine, lollipops and rainbows. 😉