Hey guys! I meant to blog this sooner but we've all been sick…and now I have a ton to do today so this will be short and sweet.
I've tried various forms of Truth in the Tinsel, Jesse Tree, etc. without a ton of success. I usually make it a day or two and then start missing days, or weeks, and never finish. Last year I wanted to follow the advent plan for reading from the Jesus Storybook Bible every day, because I really, really  love it…but once again we missed a ton!
Anyway, this year I was looking around at the bajillions of ideas for DIY advent calendars and couldn't find anything that I super loved…so I came up with my own plan. I took Julie Anderson's fantastic  printable coloring-page style ornaments that go with the Jesus Storybook Advent and made them smaller, printed them on a sheet of watercolor paper I stole from Artist because I didn't have any cardstock on hand, then used washi tape to stick them to our wall in a sort of Christmas tree-ish shape.  If I were doing it again, I think I'd change one row of three to a row of two and add one card at the bottom as a stump, but whatever.
The plan is that each day we'll flip one over, stick it back to the wall with a new piece of tape, and then read the corresponding day's story from the schedule on Julie's blog. If I'm really on top of things I'll print out 3 copies of each of the ornaments and let me girls color those while I read the story as well. 😀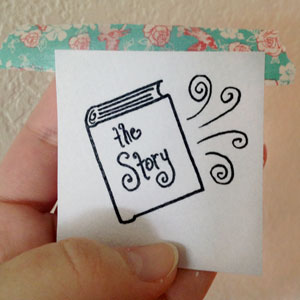 If nothing else, my girls are excited that we have an advent calendar, and it will theoretically remind us all to actually do the readings each day.
In other news, I've decided to do "Kindness Elves" this year. Here's my post with 25 super-slacker ideas to use! My absolute favorite is, "Make coffee for your Mom!" See what I did there?  I'm totally winning at this. 😉
Anyway, it's somehow 2:00 in the afternoon and I've only had one cup of coffee…which means I'm now hitting publish on this post without even checking for typos or grammatical errors, because as much as I love a well-formed sentence, I love coffee more, and I really need some right now.
DIY Super Simple Christ-Centered Advent Calendar