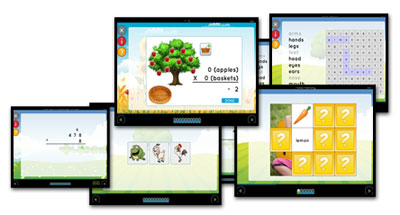 For the past month or so my girls have been using the Complete Home Learning Suite from Essential Skills Advantage. I'm a big fan of doing school online, and ESA has been a great program for us.
ESA has online courses to supplement all the basic subjects for K-6. The lessons are engaging and rewarding, while remaining focused on educating rather than simply entertaining. There are printable certificates for a tangible reward, and a parent page that tracks your kids' progress. Also, the curriculum is fully customizable. Each child can be working in multiple grades at once for each subject, and flip back and forth as needed, even within subjects. For example, within language and grammar, my 9 year old can do 6th grade spelling and 3rd grade writing fundamentals (and kindergarten phonics if she wanted to).  Unlike some programs, there are no limits on what grade levels each student uses, which is great for us since Artist is really not in any one specific grade at this point and does work in everything from 3rd to probably about 7th grade.
I started Boo out in the Kindergarten reading program, beginning with readiness skills. I was really pleased that it covered a lot of basics she needed to work on that I hadn't seen addressed in learning programs before, like visual discrimination skills.
She also worked on auditory skills, basic concepts, and more. When she moved on to sight words, though, the activities were too advanced for her and she became frustrated, so I switched her over to the kindergarten math program.
The first unit there is focused on teaching a thorough grasp on numbers up to 100, as well as basic addition using a variety of engaging activities.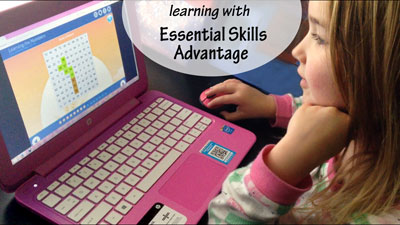 Boo has now finished most of unit one, and has gone from barely being able to count above 10 to counting to 100, and can now do basic addition as well. Numbers seem to have started really clicking for her, and she's started begging me to ask her things like 5 + 3  so she can show me she knows the answer. I love seeing her make such great progress and gain confidence as well. 🙂
She also says she likes ESA, which is of course a huge plus! I think she'll continue to learn a lot through the program. It's a great fit for her!
For Artist, there wasn't a particular skill I needed her to focus on, so I let her play around each day, trying whatever suited her fancy. She loves science, so she decided to check that out. Unfortunately the science curriculum only goes through 3rd grade, and everything in it was far too basic for her. She ended up deciding on 6th grade geography, instead. She found the map and globe skills interesting. Here, particularly, I felt the program would work best as a supplement to help reinforce material we covered outside of ESA, which I believe is the intended use anyway. But even without that, she still learned a good amount.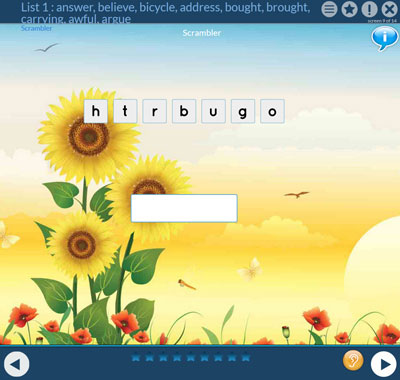 The most useful skill Artist chose to work on with ESA was spelling. She started out in 3rd grade spelling, which was ridiculously easy for her. I have no idea how it lines up with other 3rd grade spelling, but in any case, I had her move up to 6th grade.
The spelling lists there lined up with words that she needed to be working on, and the activities such as word scramblers, hangman type games, and word searches were fun and engaging, and most importantly painlessly improved her spelling skills! Yay!
Though Artist claims she finds everything at ESA boring, I think she just jumped to that conclusion when attempting 3rd grade material that wasn't challenging for her. I plan to keep having her use ESA for language and grammar work, if nothing else.
All in all, I definitely recommend ESA as a supplemental curriculum for younger kids. I think Artist will outgrow it in about a year as it only goes through 6th grade (3rd for science) so it may not work well for older kids, especially if they're more advanced in some areas. That said, for Boo it's one of the best resources I've found. In fact, for kindergarten I think it could possibly be just about the only curriculum you need.
Also, be sure to check out what other reviewers have to say about ESA over at the Schoolhouse Review Crew link up.
Let me know if you have any questions or anything. Have a great day! 🙂

Online Education – My Review of Essential Skills Advantage