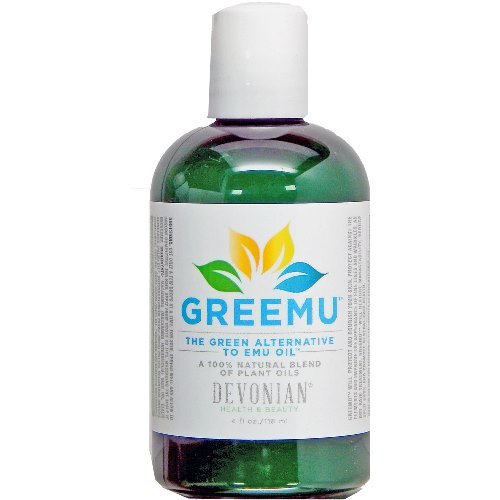 Guess what?!? Today I get to share a review of something for YOU not your kids (well, maybe your kids too); it's a blend of nourishing plant oils called GREEMU.
I actually had no clue that emu oil was beneficial, but apparently it is…however, it's not really at the top of my list of products I'd be excited about using. Fortunately, a company called Devonian researched and found an alternative made entirely from plant oils, including Shea Butter, Macadamia Seed Oil and several others (listed on their website).
It's supposed to improve the health and appearance of your face and hair, and as far as I can tell, it absolutely does! 😀
I hardly ever wear makeup, and definitely haven't had time to put any on now that I have a newborn (in addition to my other 3 sweeties), but I've been rubbing a few drops of GREEMU on my face after any time I get a chance to actually shower, and I love the way my face looks with it! It gives my skin a nice, even appearance with just a hint of glow (NOT oily, just a lovely fresh-faced shimmer). I mean, seriously, I was getting ready for church the other day and thought, "Hmm, should I try to throw on a bit of makeup real quick?" but I decided to just use a little GREEMU instead and I was happy with the result.
The main place I've really seen an incredibly noticeable difference, though, is in my daughter's hair! Artist has long, thick, very textured hair that is beautiful but a bit dry and gets tangled super easily. I started rubbing some GREEMU in while it's wet after she showers and it has made a world of difference. Not only is it significantly easier to brush, but it's silky and shiny! And I can tell it's actually nourishing her hair because last night I forgot to put the oil in after she washed her hair and today it still looks significantly less dry than it used to. Yay! (You do have to be careful about how much you use, and figure out what amount works for you…I put a tiny bit more on the top of her hair than I intended before the picture, but I don't even care because it was sooo much easier to brush!)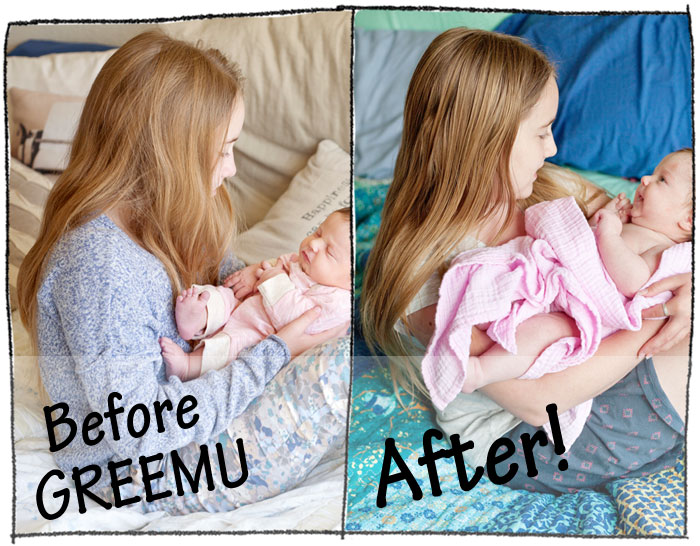 I'm seriously in love, and will have to buy myself more when I run out of the bottle I was given.
Oh, and when baby Apple has a red booty from diaper rash, I add a drop of Frankincense essential oil to a bit of GREEMU and apply it to help heal her skin. 🙂
GREEMU is distributed by Koru Naturals and sold on Amazon. I was surprised to see it's only $10.80.  As awesome of results as we've gotten from it, I honestly expected it to be pricier than that.
So, yeah, I'm loving it! Check out what my fellow crew-mates think at the review link-up here: Schoolhouse Review Crew's reviews of GREEMU.

GREEMU – Nourishing Plant Oils