Hi guys, my latest review has been published at The Old Schoolhouse® Magazine. You can find it in full here, and I've included an excerpt below.
————–
Boo loves to bake. Working with her in the kitchen to create something new is one the best ways to spend quality time with her, so we were excited to try the Make Your Own Gummies Kit from Verve, Inc.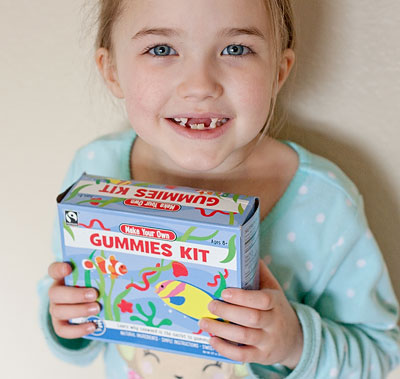 The kit costs $13.95 and gives you the opportunity to do something fun as a family, or with one of your kids, or however you decide to use it. It contains everything you need to make one batch of all natural sour gummies from seaweed: simple step-by-step instructions, sour mix, naturally colored and flavored Fair Trade sugar, powdered seaweed, dried seaweed, and molding starch to make your own candy molds.
It also comes with a sweet story about a girl named Divina in the Philippines whose family has a seaweed farm. The story tells us a bit about how they grow the seaweed, what types of things it's used for, and how using seaweed instead of gelatin in the gummies helps support Divina and families like hers.
The process of using seaweed that you boil until the carrageenan is extracted was a really neat experience and we were all fascinated to watch it work. We think we may have done something wrong, though, because the end result solidified super quickly, before we even had the chance to get very much of it poured into the molds.
The kit comes with some sour powder to coat the gummies in once they're made, if you so choose. Boo initially wanted to only make half of them sour, but after trying one gummy without the powder, she decided to coat them all.
All in all, I'm glad that we had the opportunity to use this kit. Boo had a good time, and we enjoyed getting to try something new. I also appreciated the fact that it was supporting seaweed farmers in the Philippines, plus seaweed was a new ingredient for us to work with and that was a fun experience.

Make Your Own Gummies Kit – Review