Hello friends. A little over a month ago, Home School in the Woods sent me a free copy of of their Make-a-State Activity  which is part of the Activity-Paks series. 🙂

At the start of the year we began using their very in depth hands-on history project:  HISTORY  Through the Ages Project Passport World History Study: Ancient Greece (you can read my review here: A Study in Ancient Greece). It was great, but definitely very time consuming. With summer upon us, I was excited to do a fun, interactive but less intensive  mini history course.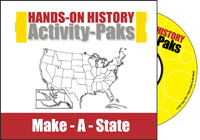 We received the Make-a-State Activity-Pak as a downloadable resource, but there is a CD version as well.  It's intended for grades three through eight,  but with a bit of help from me, my first grader was able to do the activities, too. The Activity-Pak contains instructions and printables for 20 projects that you can put together into one big Lap Book. The activities include key state facts, a state timeline, recipes, state geography and government, and much more.
A nice thing about this resource is that you can use it for any state, so while we began with a study of our home state of Texas we can use it again later for other states, too. And of course we can pick and choose what all we want to use, so we can do just a few activities if we want to just touch on a state rather than learning ALL about it. And actually, because I'm using this for first and fourth grade rather than third through eighth, I'm not doing every  activity in our Texas study, either.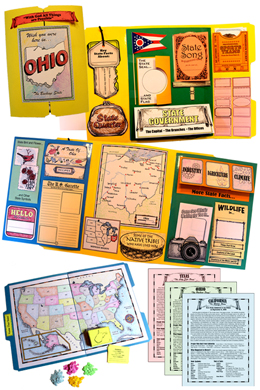 The materials include a set of State Pages with some brief information to use for your key facts and such, but otherwise lets you choose where to pull information from to complete the activities. It also includes a bonus "Name That State!" File Folder Game  that can familiarize kids with the shape and location of states, capital cities, and more.
So, I thought at the beginning that we would go through and do 100% of every activity exactly as instructed and just have a blast learning about Texas this summer, but it turns out that I am just not very good at doing big projects, and this one was actually a lot more work than I realized it would be. In all honestly, I think I like the idea  of hands on schoolwork more than the actual implementation of doing all the tasks. In some cases, the activities really just feel more like busy work than an engaging learning activity. For example, we chose to not bother at all with cutting out a recipe card and coloring and putting together a piece of the Lap Book for that, because it's not something my girls cared about at all. A better fit for our family is finding a recipe that Texas is known for and cooking and eating it.
But the state regions activity is nice and simple and educational, and the geography one is very adaptable so we can use in it whatever way best suits us.
All in all, this wasn't the best fit for our family, but I know a lot of homeschool families love making lap books and such, and if that's you I imagine this would be a big hit. Home School in the Woods has a ton of product lines you can use for hands on history studies including a Time Traveler American series that begins with New World Explorers and ends with World War II, Lap-Paks on U.S. Elections, Wonders of the World, Benjamin Franklin, and more, and an in depth Timeline Trio project set. They've also just announced new a la carte projects that sound neat, and if you use the code alacarte at checkout to get the Erie Canal project free, because this week marks the 200th anniversary of the beginning of the canal. I love the idea of being able to just purchase one specific project. There are a bunch to choose from and they're all under ten dollars (many of them are less than three dollars). So fun! 🙂
Well, that about wraps up my review, but be sure to hop over to the Homeschool Review Crew link-up to see what other reviewers have to say.