In my post yesterday, I mentioned unschooling and jested that I merely used the term because I didn't know how to get my 6 year old to read.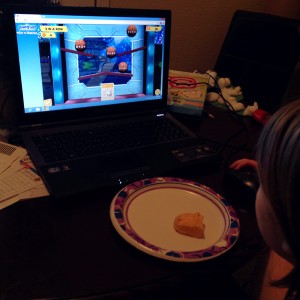 I feel the need to come back and clarify a little, so as to (hopefully) not give a bad name to unschoolers everywhere.
Over the summer, Misteris and I noticed that Artist was making great strides in reading on her own, when we weren't stressing her out with lessons that she struggled through every day. So he and I sat down and talked about pros and cons of different ways to teach her, and finally settled on at least starting out the year by unschooling.
What I really want to make clear is that this does NOT mean she's not receiving an education right now.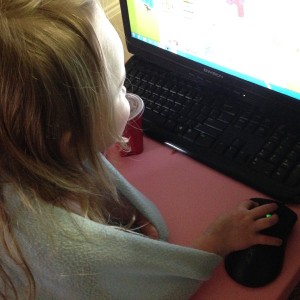 We started out by finding and bookmarking for her a ton of educational websites and learning games, purchasing apps for our iphones and ipad, filling our netflix queue with educational shows, making available board games that incorporate important skills, restocking our art supplies, and making sure we had lots of books around, both easy readers for her to master, and chapter books she loves me to read. Then we let her take the lead.
It hasn't been perfect…right now we need to get back on track a bit. Since Ice Cream was born my energy has been pretty focused on taking care of her, and Artist and Boo have gotten into the habit of watching non-educational shows and playing games on their computers that I'm pretty sure are basically junk (unless you can figure out a way dressing animated paper dolls or playing hide and seek with a baby dragon are useful skills). BUT, Artist has started to read, and more importantly she's excited about it, and confident enough to try to sound out challenging words, and attempt to spell ones she doesn't know!
On another note, I hopped over to thesaurus.com because I didn't want to use the word "clarify" twice in this post, and I LOVE the way they've re-done it! Which is probably a ridiculously geeky thing to say, but I was too excited not to share! 😉