You guys, it is ALMOST Christmas! How did that even happen?!?! I swear just yesterday it was the beginning of December and I figured I still had all the time in the world for holiday shopping!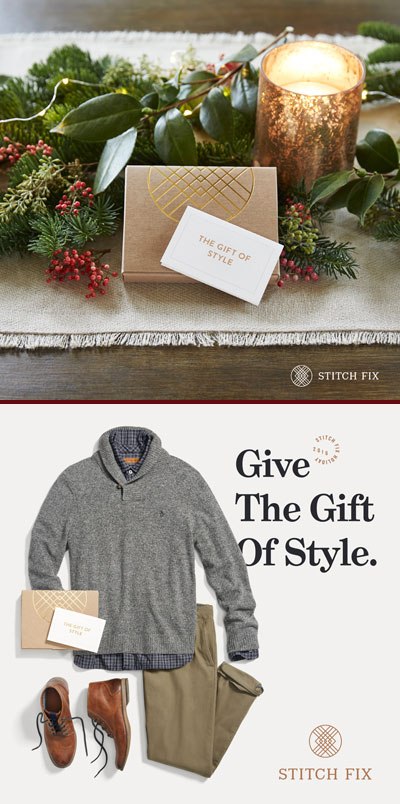 Now it just hit me that the day after tomorrow is Christmas eve, and I totally forgot one of the people that I needed to give a gift to! There's no way in the world that I'm braving crowds to go to the mall. But I want to give a gift that's something a little more unique than my usual go-to last minute gifts (Starbucks or Amazon gift cards).
And then I remembered that I can give a Stitch Fix Gift Card
! I'm going to be honest here, my budget is only $20. In the past I've kind of though of Stitch fix as an expensive indulgence. I'd get a fix with five items I LOVE, keep them all, and sometimes spend as much as $200 depending on what my items were. If that's the case, $20 is barely a dent in the total cost.
But then I received the perfect   winter scarf from Stitch Fix
and I realized I wasn't really considering all the options. I could always give my friend a $20 Stitch Fix Gift Card
, and she could ask her stylist to send her a selection of five shirts to chose from, and keep the one she loves most, sending the rest back at no cost. Bam – what?!? Now she has a great new shirt that she adores, and me to thank…plus I didn't have to try to guess her size or hope I could nail her style well enough to know what she would like, but doesn't already have! (Not to mention she never has to know that I forgot about her gift until today.)
Stitch Fix Gift Card
can be emailed, printed, or mailed – with free shipping! Also, in case you hadn't heard, Stitch Fix is for men now, too, so you can gift it to the guys in your life!
Oh, and if you're looking for a last minute gift to give me, I'd be thrilled to get a Stitch Fix Gift Card
. Just saying. 🙂
– This post contains affiliate links. If you're considering signing up for Stitch Fix
 or giving a Stitch Fix Gift Card
 it would mean the world to me if you could use my links that won't cost you anything extra at all, but will give me a small commission.  
Last Minute Christmas gift idea!!!