Sometimes I think I should make my kids food look cute — then Apple starts crying, so I don't. I mean really they're lucky I'm putting food on a plate for them rather than making them fend for themselves, am I right? Still, the younger ones do eat better when their food is cute.
Thus the invention of snacktivity time!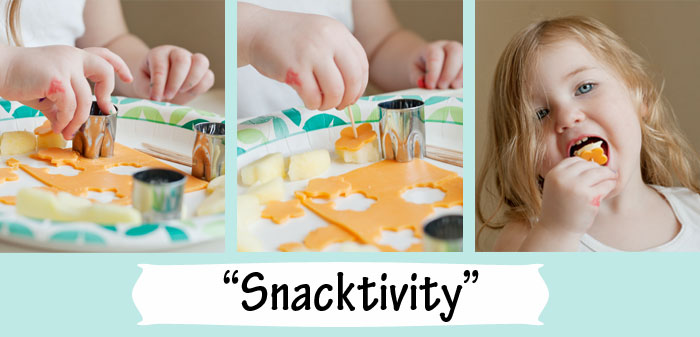 My go-to combo = sliced cheese + sliced banana (the 6 and 9 year olds can slice their own) + mini-food cutters in fun shapes!  I usually throw in some toothpicks cause it's always more fun to eat off a toothpick! Sometimes I'll do apple slices. I've also done sliced cucumbers,  pears, tortillas, bread — basically anything kids can cut is fair game!
Less work for me, more fun for the kids – what could be better? 😀
I have another of my favorite tips to share in a couple weeks, and next Friday I'm starting a series of posts sharing our favorite games to play as a family! Sign up to subscribe to my posts via e-mail (there's a spot on the right sidebar, or below the post if you're on a mobile device) or follow me on Facebook if you want to be sure not to miss them. 🙂