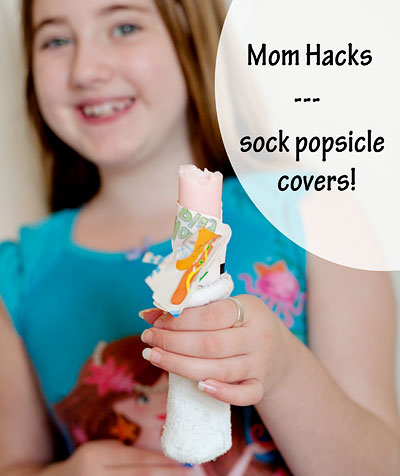 Do your kids eat ice pops during the summer? Or those tubes of yogurt to go, frozen? Mine LOVE them, but their hands freeze.
I used to try to wrap paper towels around them, until I realized that the tiny baby socks that have no matches are the perfect size for slipping on the frozen treats and keeping my kids' hands nice and non-frozen! 
Plus I finally have a use for the poor partner-less socks! Win-win! Yay!
What are your favorite Mom hacks? Share them with me and I might blog your ideas one week. I'll share my second favorite Mom hack in 2 weeks (next Monday is the 4th of July, and I'm planning to blog something relevant to the holiday, instead).
Sign up to subscribe to my posts via e-mail (there's a spot on the right sidebar, or below the post if you're on a mobile device) or follow me on Facebook if you want to be sure not to miss it. 🙂