Hi friends! I hope your 2018 is off to a lovely start.
A few of you may have noticed that I haven't been posting as much about homeschooling lately. Don't worry, I'm still teaching my kids all the things  with the help of ALL THE COFFEE. But I've decided to step down from the Homeschool Review Crew so I can spend more of the time when I manage to sneak away from all the chaos here actually writing novels. 🙂
In light of that change, I'm also shifting the focus of this blog a bit to be less about my kids and more about books. I can't think of a better way to kick things off than by sharing one of my favorite reads of 2017, The Sandcastle Empire by Kayla Olson.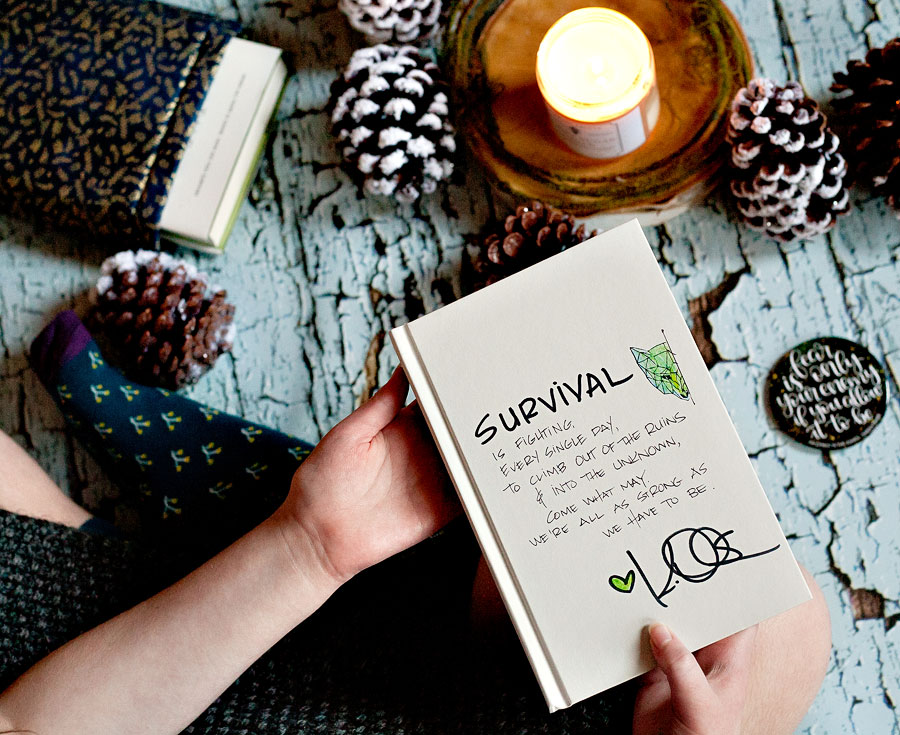 This YA, sci-fi thriller is set in the not-too-distant future in which the world has been ravaged by near-catastrophic climate change and a violent revolution.  It focuses on four girls who end up unexpectedly thrown together on an island that seems to be literally alive with danger. It had all the gripping, gritty intensity I expect from a dystopian thriller, but also so much beauty.  I absolutely loved the way the action of the story was broken up by single-page chapters that were little morsels of pure lyrical gorgeousness. By the time I was about two-thirds of the way through, I could NOT put it down and stayed up well into the night to finish reading because it was just that good.
This picture is of a quote from the book that Kayla wrote under the dust-jacket of the book when I had the opportunity to meet up with her a couple weeks ago for coffee. Oh, and by the way, Kayla is just the sweetest and you should all totally be following her on Instagram, Facebook, Twitter, or wherever you hang out. Also, I'm currently giving away this copy of the book on Instagram, which is where you can find me most days, so hop on over and say hi! 🙂
The Sandcastle Empire | Book Review