For our first baby's first Christmas, we went ridiculously overboard. It was crazy. Now that we're on kid number four, I feel like I'm finally getting the hang of baby's first Christmas. Here are my top ten ideas.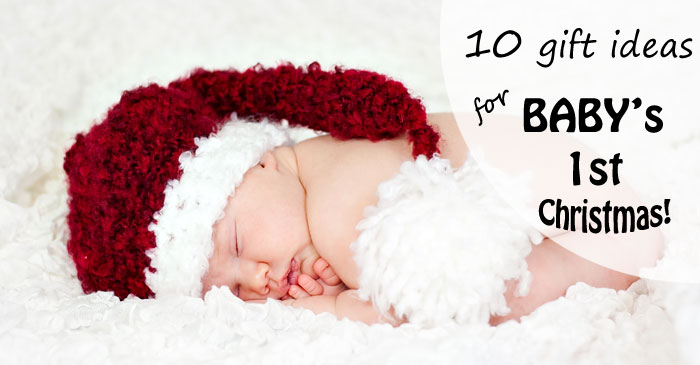 1. An adorable 1st Christmas ornament! Yes this one is more for you, but 1st Christmas is barely  actually about your baby at this point anyway. 😉
2. A cute Christmas headband or hat that your baby will look adorable in for pictures.
3. A really nice teether. (Yes, it's ridiculously expensive for a teether, but I think the Fanfan the Fawn teether is just about the cutest thing ever!
4. A set of My First Holiday stickers like these (if your baby's first Christmas is also her first holiday). 
5. Muslin blankets. These are just the best. Soft, and thin, and big enough for swaddling. They fold up nice and small to fit in your diaper bag. And most importantly, there are lots of adorable options like woodland creatures, oh my goodness, so cute, or you could get a red one that would be super cute in Christmas pics.
6. Baby Bandanas like these. So much cuter than regular bibs, and great for drooling babies! 🙂
7. Sippie cups. Who says gifts can't just also be practical? BTW, we've tried a million sippies and these are by far our faves!
8. Yogurt melts like these. Since your baby can't really eat candy yet at her first Christmas, these are pretty much the next best thing (if she's old enough to eat some solids, of course).
9. Snuggly jammies. Babies are just so darn adorable in footed pajamas.
10. A sweet little stuffed animal. Maybe your baby will love it, and maybe not. Either way you can try to hold on to it for them as their "special lovey" keepsake. Or not. Either way I love giving an adorable little stuffie as a first Christmas gift, cause it's just so cute. 🙂
OK, so there you go! Do yourself a favor and get yourself some coffee for Christmas, too. Cause when you have a baby, you definitely need coffee. And no, I'm not getting anything for recommending these items, just brainstorming for Apple's first Christmas, taking into account what has and hasn't worked well in the past, and figured I'd share my ideas with you all. What are your favorite gift ideas for baby's first Christmas?
Gift Ideas for Baby's First Christmas