I was excited to receive it to review after we discovered how much we love, Commissioned, which is also published by Chara Games. (I shared my review of it earlier this week). 🙂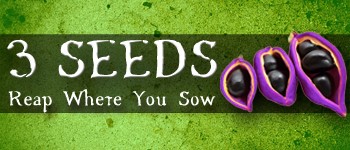 3 Seeds is a light-strategy card game that we were able to learn how to play in a matter of minutes, yet is complex enough to be fun and engaging. It's completely different than Commissioned, with pretty much the only similarity being that they are both fun family games with a Christian theme.
In 3 Seeds, you have seed cards that are divided into time, money and labor. You play these on crop cards and receive a harvest once the crop has received the necessary seeds. You can also play event cards, peek at the hidden value of harvest cards once per turn, or switch your harvest card with another, and play your seed cards on another player's crop to get some points when it is scored (and get yourself an event card). It sounds pretty simple, but we discovered that there's a good amount of strategy involved.
The game can be played in about half an hour, sometimes a bit more, and is for two to five players.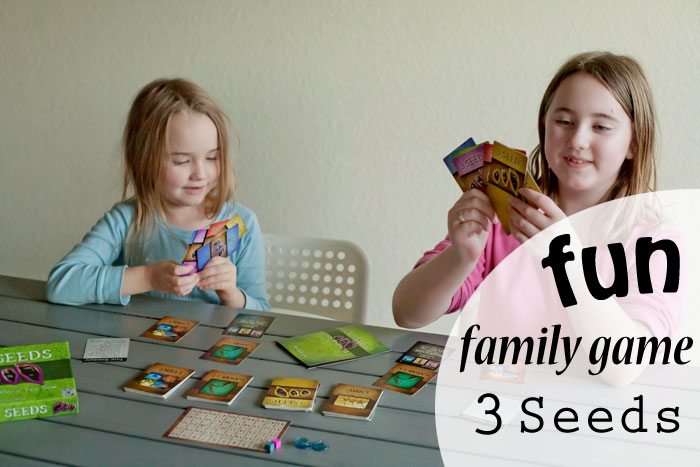 I first pulled out 3 Seeds with Artist, my nine year old, so we could learn to play. She insisted on being the one to read the instructions and manage the set up. It took us maybe about ten minutes or so to be ready to dive into the game, and then the first ten minutes of playing were spent re-checking various things in the instructions. From then on the game was smooth sailing, and we had a blast. (Side note, I took the picture right after setting up the game and before Artist told me I dealt the cards wrong and each person was supposed to have all six of their color seeds, not a mix of colors…oops.)
3 Seeds is such a fun game, Artist has been begging me to play with her every day. It's a nice balance between intensive strategy games (that are also typically rather time intensive) and quick and easy games that don't have much to them. Artist says, "I love it." (She also claims that she's the all time winner, so apparently I need to go play again with her asap and beat her so I can knock that chip off her shoulder.) 😉
Because it's a competitive game. not cooperative, Boo can't really play this one quite yet. The recommended age for it is 12+ but I think many kids 8 and up could have a blast with it, especially if playing with an adult or older sibling. It's nice that this game is truly enjoyable by just two players. I feel like we don't really have that many games that are fully enjoyable when you don't have at least three playing, and Artist really loves it when I play a game with just her.
I expect that we'll be playing 3 Seeds quite a bit…especially if Artist has anything to say about it. I can't wait for it to be available to everyone so you guys can all snatch up a copy for yourselves.  Be sure to follow Chara Games on Facebook and Twitter so you can be in the loop when 3 Seeds hits retailers! 😀

Family Fun Friday – 3 Seeds