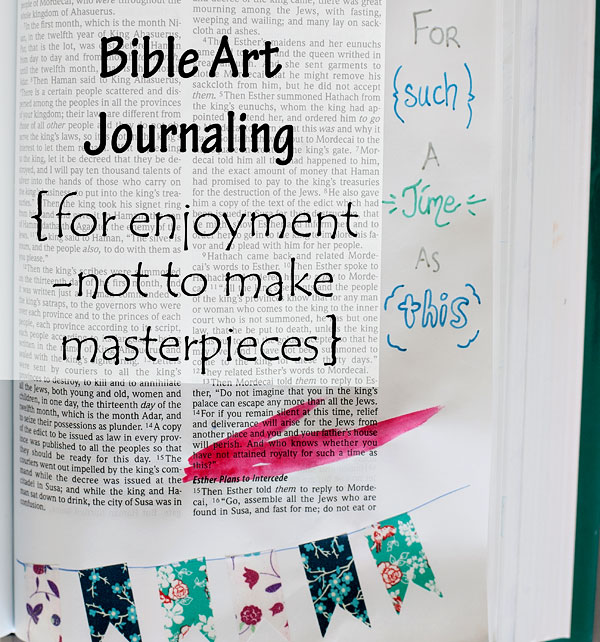 Last year I started following author Kiera Cass (whose books are awesome, btw) on Instagram. She posted a few pictures of Bible Journaling where she'd created artwork on the pages of her Bible accenting a verse or idea from the page. It looked awesome, and I've been in a Bible study slump, so I decided to give it a try!
I searched "Bible Art Journaling" as well as "Illustrated Faith" on Pinterest and found a bunch of people who are doing it. I loved everyones examples, so I kept researching and found tips and tricks and supply lists. Then, for Christmas, I asked for some supplies to get me started.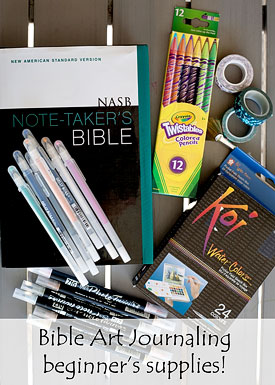 I got a note-takers Bible with wide margins, gelly roll pens, colored pencils, a special watercolor set, washi tape, and some photo-markers that work as muted highlighters.
For a few of my pages so far I've also used pieces of paper stolen from the kids pad of watercolor paper. And on that paper I used a sharpie once. I also printed a small coloring page of a verse onto the watercolor paper.
It's nothing extravagant for now. I want to get a set of Copic pens, soon, because I've read that they're the best at not bleeding through the paper.
I also have my eye on a few other items including a gold ink-pad and letter stamps, and some fun stickers for embellishments.
For now, however, I'm finding that there's plenty I can do with a small amount of supplies. 🙂
That said, I wasn't quite as happy with my first few attempts at Bible journaling as I'd hoped I'd be. 🙁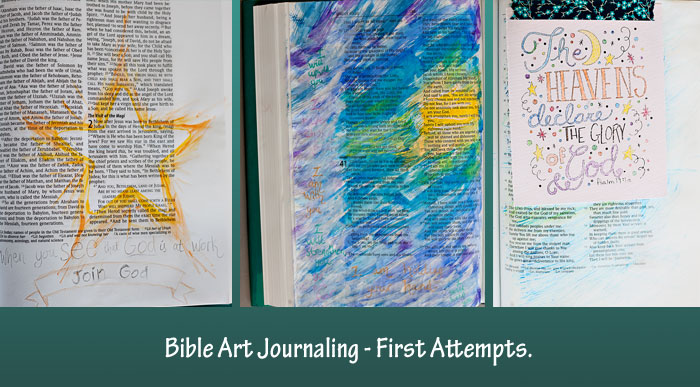 I considered waiting awhile before blogging about my new endeavor so that before I shared anything I could *hopefully* have mastered this whole thing a little bit better…and perhaps would even have a few super awesome pages to share. But then I figured, there are already plenty of fantastic pages that people have shared and you can go to for inspiration, I might as well share my attempts thus far to show that:
A) Anybody  can do this.
B) It doesn't have to be fancy and awesome.
(FYI – You can't really tell from the picture, but the page in the middle picture is all wrinkled…which is especially evident on the back of the page…and the paint got darker than I intended, making all the verses harder to read than I'd wanted. So…yeah, just a heads up, if you're anything like me, there may be some pages that don't turn out the way you want. I'm not saying that to discourage anyone from going for it, though…I still love art journaling.)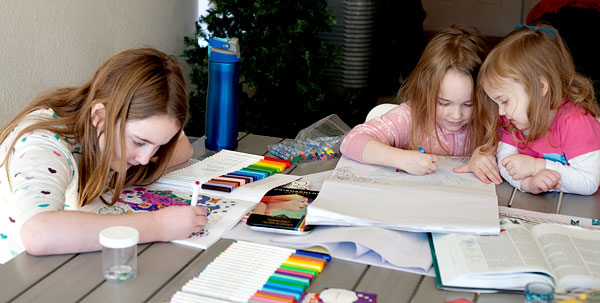 An unexpected bonus from the journaling is that almost every time I pull out my supplies and sit down at the table, my girls all stop playing Mario or running around like hooligans or whatever, grab their own art supplies, and sit with me and create art, too! 😀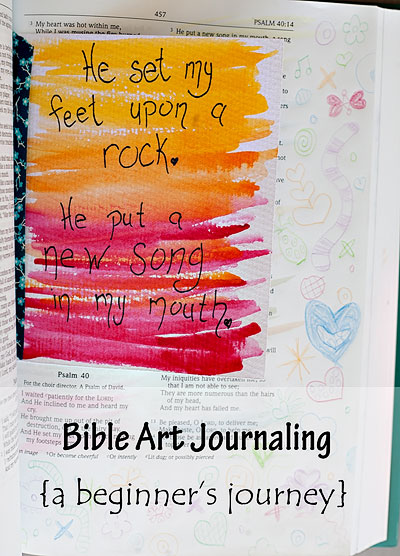 My grand plan is to decorate this Bible for about three years and then set it aside and start a new one…and do that again and again until I've created four personalized Bibles. Then I'll give one to each of my girls at some point…perhaps their thirteenth Birthday, or when they move away from home.
We shall see, though. First I have to stick with this one long enough to do more than half a dozen pages. 😉
So far I've not been doing it as frequently as I'd planned, and I'm sure I'll find it even more  difficult to make time for once Apple is born…next month. (Eeek, that's crazy soon! )
Anyhoo…there you have it. You can check out my Bible Art Journaling Pinterest Board for my favorite blogs with tips and ideas, resources like Bible coloring pages, instructions for making your own hand lettering, etc. You can also take a gander at my Amazon wish list for Bible Journaling supplies to find things that others have recommended plus other stuff that just looks really cool. (Brownie points if you want to get me stuff off the list. 😉 )
If you guys are interested, I can start sharing the pages I do on my blog Facebook page.
Let me know if you have any questions. I mean, I don't know if I'll be able to answer them, but let me know anyway.  And if you do Bible Art Journaling, I'd LOVE to see your pages…and hear any tips or tricks you have to share!
And now it's coffee time. Well, it's always coffee time, but now I'm going to go drink some! Yay! 😀
Have a great day!
Bible Art Journaling – A Beginner's Journey!