Oh my goodness, you guys, today I get to share a review of the art supply that has been my best friend lately — after  coffee, of course. 😉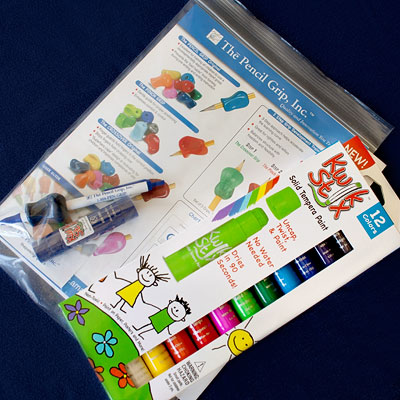 Last month we received a Kwik Stix 12 pk from The Pencil Grip, Inc. to try out!
Kwik Stix are solid tempera paint sticks  a.k.a. the perfect smash up of markers and paint.
As soon as I opened the package, my kiddos were chomping at the bit to use them!
I went ahead and put an old sheet on my table and had my kids wear old clothes to use the Kwik Stix, since the one down side is that they're not washable. (It turned out not to matter as they didn't make a mess, but with a 2 year old using them I still take precautions just to be safe — you never know when she might decide to start coloring the table, or herself, or her sisters, or everything in the world.) 😉
Then I let them go crazy.  (OK so maybe they're always pretty crazy, but I let them have free rein of their new art supplies.)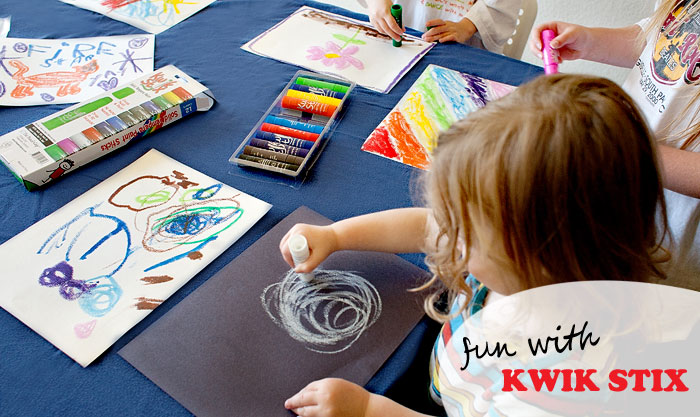 They were simple enough to use that even Smiles, who's 2, didn't need any help except to get the lids back on all the way. And there was barely any set-up required from me, and virtually no clean up either, which is awesome-sauce!!!

My girls had a blast exploring the different looks they could achieve depending on how hard they pressed and whether they used the top of the Kwik Stix or an edge.
I was a bit skeptical about the quick dry feature, but it turned out to be totally legit. In fact, when my girls were just pressing lightly it seemed to be almost insta-dry! Apparently you can press harder and then smudge the colors with your fingers, and layer the colors and blend them together etc. which my girls haven't tried yet, and I suppose that might cause it to actually take the full 90 seconds. But with the art my girls made, not only did I NOT have to try to find spots to let a dozen paintings dry (ugh, that's always such  a pain, I just can't even) but they didn't get any paint on their hands from touching their papers. *YAY*
The novelty of these super easy to use "paint markers" as my kids call them totally saved the day for me! The first day we tried them, my girls were thrilled to have something special to do since so much of the attention had been on baby Apple. But the day the Kwik Stix really  saved was the first day my husband had to go back to work.
I was still in a lot of pain from having a c-section, and hadn't figured out how to juggle having 4 kids (OK maybe I still haven't, but whatever — I'm sure I'll have this thing down in about a decade or so).
Anyway, by mid-afternoon I was in dire need of something to keep my older 3 happy and NOT needing me for anything and I saw the Kwik Stix so I tossed them on the table with some construction paper and some snack packs of animal cookies for good measure and crossed my fingers!
Lo and behold, my kids were super happy and colored nicely long enough for me to get a nice reprieve and make it until it was close enough to my husband being home that I could see the light at the end of the tunnel and mentally declare myself capable of actually  doing this crazy "Mom of 4 kids" thing. *Whew*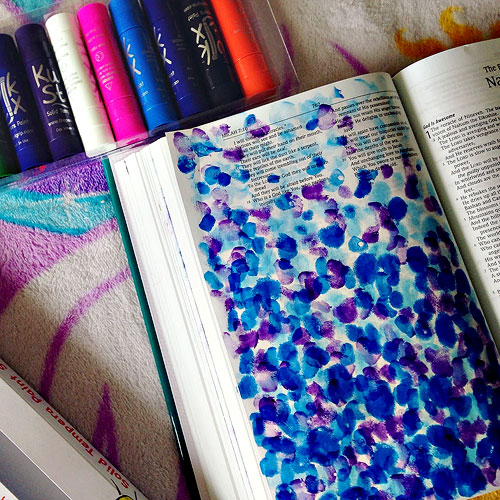 A week or so ago, I finally got a chance to do a little Bible Art Journaling and tried using the Kwik Stix and LOVED them for that, too! They're seriously my new favorite art supply to use in my Bible!
When I applied them lightly, you could see through them plenty well enough to read the text beneath, they didn't wrinkle the page at all, and barely  bled through to the other side!
Plus they were a lot of fun to use! 😀
I added the METALIX Kwik Stix to my art journaling supplies wish list because I think they'd look awesome, too!
And now for the super exciting news! I'm having a — wait for it…
GIVEAWAY!!!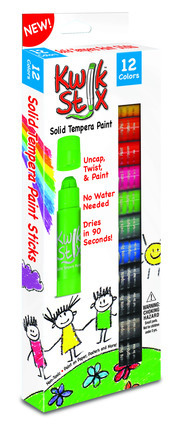 (I know, people have giveaways all the time, but this is my first one, so I'm super excited!!!)
The Pencil Grip, Inc. is sponsoring a giveaway of a Kwik Stix 12pk in assorted colors!
To enter, just leave me a comment! You can get one additional entry for hopping over to my Facebook page, "liking" it,  and leaving me a comment there mentioning Kwik Stix.
On Friday the 13th of May I'll put all the entries into a hat and have one of my sweeties pull a name out!
So…yeah…awesome-sauce, right?!?! 😀
Anyway, I've raved about how much we love Kwik Stix but you should totally hop over to the Schoolhouse Review Crew link up to check out what my fellow crew-mates have to say about them!
Good luck in the giveaway! And may your day be as awesome as a steaming hot cup of delicious coffee!!! 😀