So, about a decade ago when I was pregnant with my first baby someone gave me a Boppy nursing pillow and I thought it was the best thing ever. It definitely did help my support her when I fed her, but it was lacking in a number of ways. I didn't know there were any other options, so I made it work for my first two girls. Six years later when my third sweetie was born, I saw that there was a deluxe Boppy or something along those lines that was thicker and more supportive, so I got that. It was definitely superior to the first one, but I still wasn't 100% happy.
Finally, when I was pregnant with my fourth baby, I started researching what all was out there.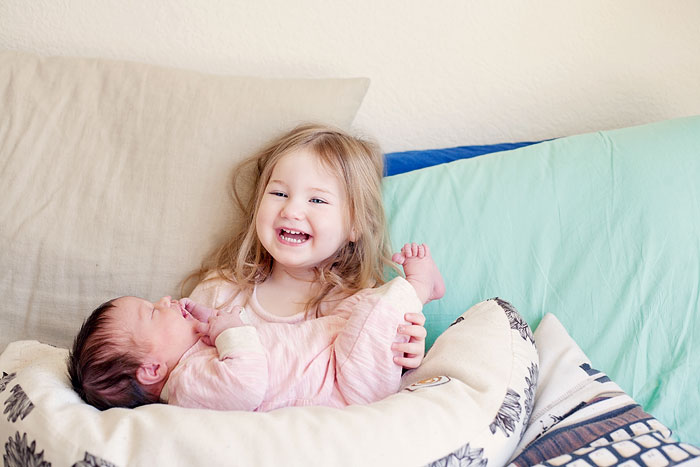 I found soo many choices it was honestly pretty overwhelming.I wanted something big, but not so monstrous that I wouldn't be able to use it at my desk. And I wanted it to be firm. I didn't want the cover material to be too hot, but I did want it to be soft. I also really wanted it to stay in place, but the one I had before had a belt you hooked on the keep it in place and it was honestly pretty annoying.
After looking at a ton of reviews, I decided that The Nesting Pillow from Blessed Nest looked like it would be pretty good, but it was $94 so I kept debating it for about a month, and looking into other options.  I finally decided that since I planned to nurse my baby for probably about two years, it was worth the investment, so I bit the bullet and ordered one.
As soon as it arrived, I pulled it out and started using it to support my very pregnant tummy, and it was the best thing ever to help me sleep comfortably (And I'd tried tow different giant maternity pillows). Then my toddler stole it as her hug pillow at night, lol. I figured I was going to want a spare cover anyway in case this one was spit up on and in the wash, however, the covers are $56 and I decided that I would actually just go ahead and get an entire second pillow instead.
I'm so glad I did! I LOVE this nursing pillow so much! My only regret is not getting it sooner!
(As a note, I didn't receive this free to review or anything. The lovely people at Blessed Nest literally have no idea who I am, I just love this pillow so much that I had to tell you about it.)
The Nesting Pillow is 100% organic cotton* canvas (from a US mill!)  and filled with buckwheat hulls. I was a little worried because that means you can't put it in the wash, but when my baby has spit up a lot on the pillow, I've always quickly taken off the cover and the pillow itself only ever had a tiny spot of dampness that had gotten through. You can put it in the dryer for fifteen minutes to keep it sanitized (I add a dryer ball with a couple drops of an essential oil) and after a year of use it still smells perfect and doesn't show any signs of being dirty.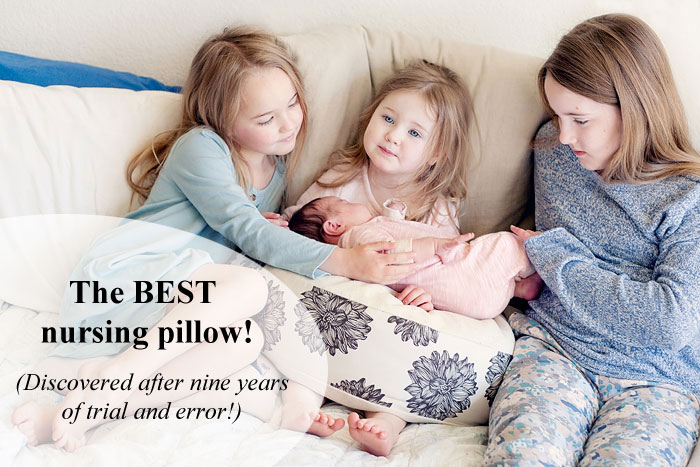 It's also a heavier pillow that any others I've seen. It weighs about about five and a half pounds. This weight means it stays in place really well. It's kind of like a bean bag that is the perfect blend of moldable and firm, so it sits on my legs and stays put. And speaking of being moldable, one of the best attributes of this pillow is that you can easily shift the buckwheat hulls so that it's higher on one side than the other so you can easily nurse your baby with their head a bit elevated (A great feature for babies with reflux).
If I could go back in time one year, the only thing I would change would be to also order The Nest Egg – a small pillow that gives a little extra support under babies' head, or your arm, or wherever you need a bit more pillow. I just use a little travel size pillow for this purpose, but I know that The Nest Egg would stay in place better and also look nicer.
Over the past year we've purchased three of these for people close to us who had babies – we knew this nursing pillow would be such a help for first-time-moms trying to figure out the whole breastfeeding thing, so we just couldn't resist supplying them with a Nesting Pillow!
I'm sure I've left something out, so if you have any questions please feel free to ask, I'd be happy to try to answer them for you!!! 🙂
After nine years, I finally found a REALLY great nursing pillow!