A few weeks ago, Zonderkidz sent me a free copy of Love Letters from God: Bible Stories for a Girl's Heart to review. 🙂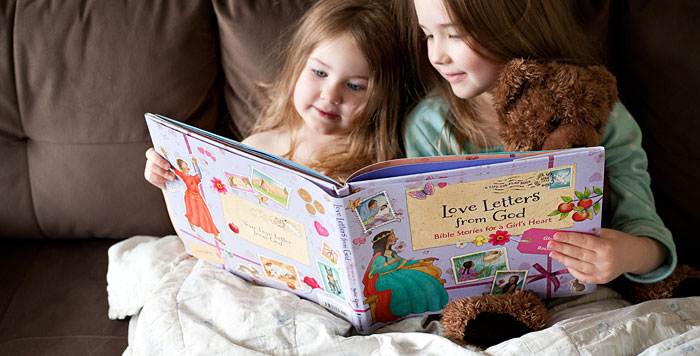 This sweet picture book by Glenys Nellist and illustrated by Rachel Clowes features the stories of fourteen women and girls from the Bible. Each story includes a lift-the-flap envelope with a special "Love Letter from God" offering a heart-warming message that turns the key themes of the story into a personal message for your girl. Intended as a read-aloud to girls ages four and up, the personal messages even include a fill-in-the-blank spot where you can say the name of the girl you're reading the story to, so it can feel extra-special to her.
Each page also includes a key verse labeled as "God's Wonderful Words to You." For example Rahab's story shares Isaiah 46:4, "I will take good care of you."
I love the way this book highlights the fact that girls are important to God, and their stories are in the Bible, too. I think it can be easy for girls to always just hear the stories in Sunday School about famous boys from the Bible like David, Joseph, Moses, Abraham, etc. and feel like there's not really a place for girls in God's story. This book helps show the importance of unfortunately often overlooked stories like Miriam, Deborah, Hannah, Naaman's servant girl, and many more, as well as the well-known ones like Eve, Esther, and Mary.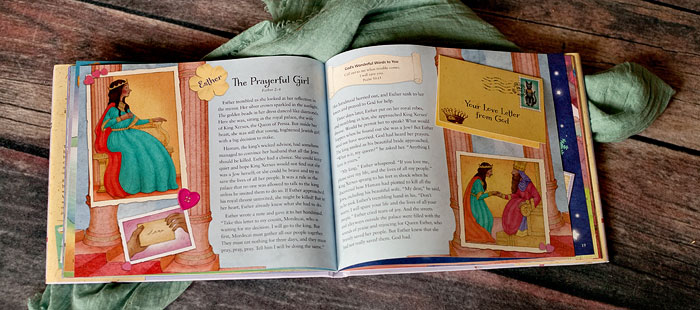 One of my favorite parts of this book are the titles given to each story. For example Rahab is "The Brave Girl,"  Hannah is "The Hopeful Girl,"  and the Samaritan woman at the well is "The Thirsty Girl."  Part of what I love about these titles is the wonderful context that's given. Rahab isn't "the harlot" and Eve isn't "the apple eater." In fact, Eve is "The First Girl,"  and her story focuses on how God delighted to make her. Yes, it tells us how the serpent whispered to her and she ate the apple, but then it reiterates God's love, making sure we know that after everything, God still gave her new, warm clothes. Eve's story tells us, "And as Eve walked away, she knew she was forever covered in God's love and forgiveness. God had made her, and she was good."  The love letter on that page reiterates that God made each of us and delights in us,  and forgives us, too. 🙂
The only thing I'm sad about with this book is that I didn't have it when my oldest was younger. That said, even though she's almost ten now I really want her to hear the messages in this beautiful Bible storybook, so I think I'll have her sit in with us while I read it to her younger sisters.
I feel like the stories in Love Letters from God: Bible Stories for a Girl's Heart are so important, and written and illustrated so beautifully, that this is a book every little girl should have in her library. There are honestly very few books that I would say this about, but if you have a young daughter, go buy this book right now and read it to her. You can thank me later. 😉

Love Letters from God: Bible Stories for a Girl's Heart | Book Review