We've never really made a big deal of New Years Eve, but as my kids are getting older I've been thinking about ways to make the night more fun. Here are my top ten ideas.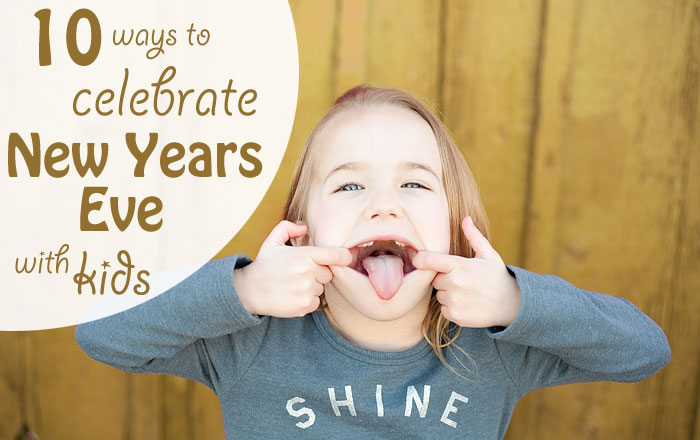 1. Choose your one word. For the past couple years, instead of making New Years Resolutions, each of us have chosen one word to think about in the upcoming year. It's been something we actually remember and continue to think about far longer than any resolutions, and it's always fun to talk about how the word we chose last year has impacted us, and talk together about what potential words we're choosing between for the next year.
2. Have a toast! Mike and I usually toast with some champagne at midnight, but I think this year before the kids go to bed we'll have a toast with them using some sparkling cider or juice in some cute paper or plastic party cups.
3. Reminisce and record! I started out last year trying to write down fun moments on strips of paper in a jar, but I think we forgot about that by the end of January. I know we can still remember a lot of our fun times, though, so I'm hoping we can spend some time writing them down retrospectively so we can look back in the future and remember.
4. Make your own a photo booth! I want to get a few fun props, put up a bright colored blanket for a backdrop, and take silly pictures. I think my girls will have fun posing, and I know I'll love looking back on them in the future.
5. Have an indoor picnic. For some reason my girls think eating on the floor is super fun, so anytime we do this the day feels more special. We'll put down a big blanket on the living room floor and eat some of everyone's favorite snacky foods like hummus and crackers, cheese cubes, lil' smokies in bbq sauce, chex mix, queso and chips, etc.
6. Make fun treats. We just did a ton of baking in December so I'm kind of spent, but I'm thinking I could manage something simple like pretzel sticks dipped in white sugar and dusted with gold pearlized sprinkles.
7. Go crazy with glow sticks. Wearing a bunch of glow stick necklaces and bracelets and waving glow sticks around in the dark is always fun for kids!
8. Do a simple craft. Something like these New Year's Coloring Party Hats from Totschooling. To add a bit of extra sparkly fun, we'll probably color ours with our Metalix Kwik Stix.
9. Play a game. We love fun family games, and our girls are always happy when we pull one out and play.
10. Watch a countdown! Netflix has created fake countdowns you can stream whenever you want. Last year we watched the Project Mc2 one and it was pretty fun.
10 Ways to Celebrate New Years Eve with your Kids