Every Other Weekend by Abigail Johnson was a poignant, emotionally gripping read.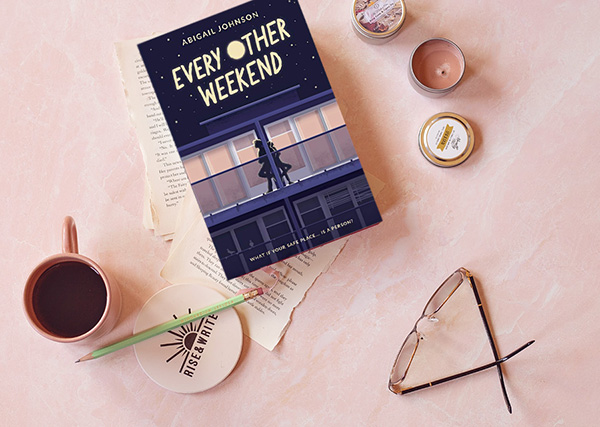 Here's a quick blurb about the book:
"Can life begin again…every other weekend?
Adam Moynihan's life used to be awesome. Straight As, close friends and a home life so perfect that it could have been a TV show straight out of the 50s. Then his oldest brother died. Now his fun-loving mom cries constantly, he and his remaining brother can't talk without fighting, and the father he always admired proved himself a coward by moving out when they needed him most.
Jolene Timber's life is nothing like the movies she loves—not the happy ones anyway. As an aspiring director, she should know, because she's been reimagining her life as a film ever since she was a kid. With her divorced parents at each other's throats and using her as a pawn, no amount of mental reediting will give her the love she's starving for.
Forced to spend every other weekend in the same apartment building, the boy who thinks forgiveness makes him weak and the girl who thinks love is for fools begin an unlikely friendship. The weekends he dreaded and she endured soon become the best part of their lives. But when one's life begins to mend while the other's spirals out of control, they realize that falling in love while surrounded by its demise means nothing is ever guaranteed."
While there were some sweet moments, to be sure, the tone was pretty heavy overall. I loved that the story dealt with some serious topics, divorce, separation, grief, loneliness, abuse, and more. Be sure to check for trigger warnings if there are issues that you don't want to read about.
It was a four star read for me, and I hope a lot of youth who are going through similar situations have the chance to read this. There are some pretty great pre-order goodies available now, and the book comes out on January 7th.
Thanks NetGalley and Harlequin TEEN for a free advanced copy of the ebook. All opinions are my own.
Every Other Weekend | Book Review