I want to start by saying, I had no idea when I started this that it was book two in a series. Oops. I'd highly recommend reading The Start of Me and You first. By the time I realized I was reading a story that began in a previous book, I'd already spoiled myself on the ending of that book, so I just kept reading, but I think it diminished my enjoyment of the story. My star rating assumes that I would have liked it better if I was reading it as book two, not a standalone.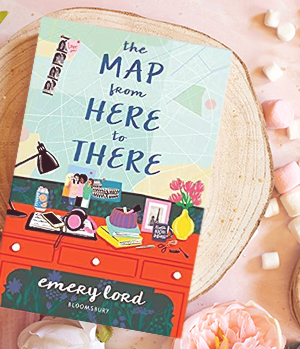 What I did love about the The Map from Here to There was its inclusion of Paige's anxiety struggles. It treated the topic of mental health with care and respect. The book showed a rare glimpse into life after the moment when the two people who have been pining for each other all book long finally get together. The big feelings and struggles Paige and her friends were dealing with as far as selecting colleges, applying, dealing with rejection letters from colleges, seeing their group of friends go in different directions and so on seemed incredibly realistic. I feel like this book would be an especially great read for those around the same age as the characters, or a little younger, who are beginning to deal with these same issues, especially as that struggle often seems to be glossed over in fiction. On the downside, this wasn't one of the YA books that seemed to have as much YA/Adult crossover appeal, for me personally. But that's okay, because obviously the target audience is teens, and I wish I'd had books that were this honest when I was in High School.
A struggle I had with the book is that it begins with introducing us to a new guy that Paige (the main character) is hanging out with. And since he was the first guy we met, I latched on to him as the love interest. I had no idea book one ended with her dating someone else. I then had a hard time liking the guy Paige was actually dating once he entered the scene. Not having the backstory of how the two of them fell in love, and all his endearing qualities, I didn't see how the two of them were a good fit. I didn't connect as well with the story overall as I'd have liked, and I can't say for sure if that's simply because I was dropped into the middle of the story, or if I just didn't fully connect with the writing style. Either way, I love that this story deals with anxieties and worries and emotions that are very real but not often written about, and I recommend it to those beginning to think about college, or even in college and missing friends and family and struggling to deal with everything.
Thanks so much to Bloomsbury Children's and NetGalley for the chance to read an advanced copy of the ebook for free. Opinions are my own.
The Map from Here to There | Book Review