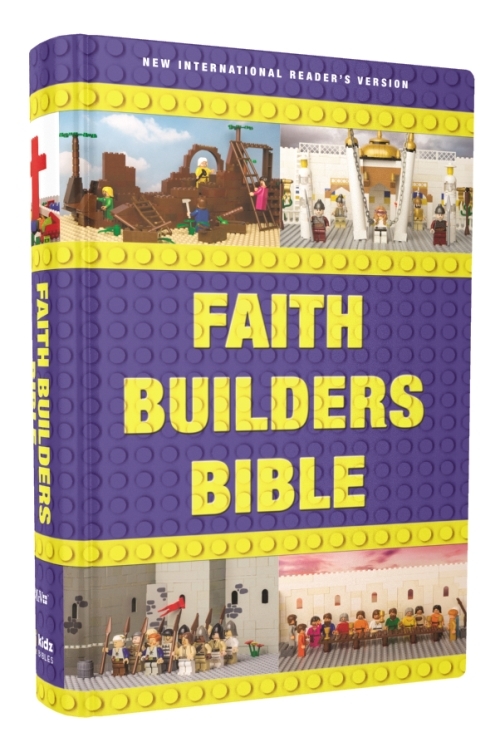 My girls and I were super stoked last month when we received the Faith Builders Bible from Zonderkidz to try out and review!
This children's Bible uses Lego illustrations to pique kids' interest and invite them to engage with the stories they're reading. It's written in New International Reader's Version (NIrV), which I'd never heard of before but really like. It's based on the NIV, but revised to be easier for kids to read and understand. Not only did they use easier to understand words, shorter sentences, and all that jazz…they also added some clarifications, such as actually putting "Pharaoh Hophra" (if that's who's being talked about) rather than just "Pharaoh."
It has quite a few story pages that briefly tell a Bible story, for example, the birth of Jesus, with a picture of a Nativity scene made of Legos and the invitation to make your own.  There's one page with some simple Lego creations like a cross, a sheep, and a fish that it challenges you to create on your own. It offers ideas for using Legos to memorize the books of the Bible,  and includes tons of "Building Block Verses" such as First Thessalonians 5:11 "Encourage one another with the hope you have. Build each other up."

The first thing my girls decided to do…after dumping ALL their Legos out, of course, was build the cross shown on the page with simple challenges. Even Smiles got in on the action (and did an amazing job for a two year old, I was super impressed that the creation she made wasn't that far off from her sisters'). Then Boo decided to flip through and look at some story pages with illustrations.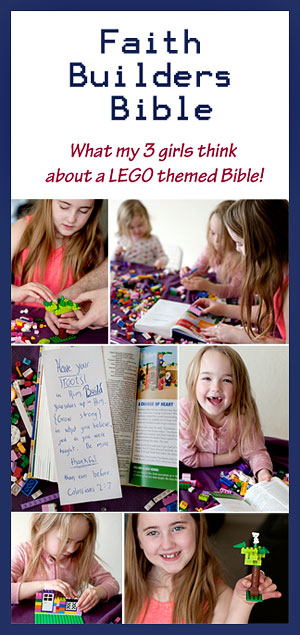 The story of Zacchaeus caught her eye, and she and Artist decided to work together to make different parts of the scene. I read the story out-loud while they got to work. Boo can be super wiggly and interruptive when I'm reading, so it's always great to have something for her to do with her hands while she listens.
When I finished reading, I wrote out the Building Block Verse to put on our fridge so we could all memorize it together,  and Misteris noticed the fun the girls were having and joined in for a bit, showing Artist how to make a base for her tree so it wouldn't topple over.
Inspired by the idea of creating stuff from the Bible story, Artist grabbed some pens and paper when she'd finished her portion of the Lego scene and began drawing additional illustrations to go along with the story of Zac, who became a cat in her version of the tale. 😀
Boo, however, was obsessed with the idea of building the illustrations with Legos, so she asked me to read her a few more of the story pages with illustrations, and she ended up deciding to build her own version of the Lego "Last Supper" scene.
I liked that the page about the story asked some thought provoking questions, like "What do you think they talked about that night? What would you have wanted to tell Jesus?"
I ended up leaving my girls to their own devices cause I needed coffee, so I'm not really sure what else they did, but they had a good time. Smiles eventually decided that her contribution to the efforts should be throwing all the Legos onto the floor, which was of course super helpful. 😉
All in all, I absolutely love  the Faith Builders Bible, and so do my girls!

It's the most unique children's Bible I've seen. I adore the way it engages my girls with the stories so they don't just go in one ear and out the other, and my girls love that they get to play with Legos while we read the Bible. 😉
Seriously, though, they've had a blast creating Lego scenes to go with the stories we've read, and seeing my girls  associating God's word with a creative, fun, fully positive experience is pretty priceless in my book.
I've bookmarked several more Building Block Verses for us to memorize together, and so far I'm quite pleased with how easily understandable the  NIrV is, so it's my current go-to Bible for reading scripture to my girls. And I just noticed a page on The Lord's Prayer that I'll show my girls later, because that's what their lesson was about at church last Sunday, so that will be a fun way to reiterate what they learned.
If you'd like more opinions about the Faith Builders Bible, or to see other ways it's being used, check out my fellow crew members' reviews!

If your kids enjoy Legos (and what kids don't, I mean, when else are they handed perfect little weapons to scatter all over the floor and test your ability to not cry out when you walk through the house at night barefoot and step on them. 😉 ),  I bet they'd have fun with the Faith Builders Bible.
Let me know if you have any questions, and I'll be happy to try to answer them…assuming, of course, that they're questions about the Faith Builders Bible. Though I suppose I can try to answer your random questions as well. I'm pretty sure the answer will be coffee. 😀