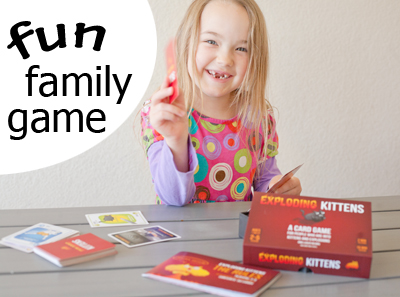 Today's game is one of our current favorites because it's quick, simple and hilarious!
Exploding Kittens is described as "a card game for people who are into kittens and explosions and laser beams and sometimes goats,"  which is a small small taste of the satirical humor you'll find on the cards. It's a game of strategy and chance that my 6 year old (who can't read yet) can play on her own now, after a couple times of being on my team and becoming familiar with the cards. Basically, you draw a card every turn, and when you get an exploding kitten card, unless you can diffuse it, you're out of the round. There's enough strategy to make it fun for adults, unlike Uno  or heaven forbid Go Fish  that make me nearly lose my mind with boredom. Of course, the hilarious illustrations and captions on the cards add a lot, as well.
I just saw that there's an expansion coming out next month, which I'm sure we'll get! Yay! 😀
Be sure to check out the other games I've shared!
I plan to share another game we love next Family Fun Friday – which will probably be in 2 weeks, right now I'm alternating with my "Mom Hacks" posts. Sign up to subscribe to my posts via e-mail (there's a spot on the right sidebar, or below the post if you're on a mobile device) or follow me on Facebook if you want to be sure not to miss it. 🙂
Family Fun Friday – Exploding Kittens