Hi guys! So we "started school" yesterday — after a two week summer break. 😀
We don't always do school through the summer, but we did this year cause we'd taken off time in the spring when baby Apple was born, plus we had a few things to review for the Homeschool Review Crew.
I can hardly believe we're in our fifth year of homeschooling now, and my girls are 9, almost 7, almost 3, and half-a-year old!!!! School looks quite a bit different now than it did when I was just starting out and I had two kids who were in kinder and pre-school. For better or worse, I'm pretty sure I care less now, lol. But we still have the same motto…do whatever works for us!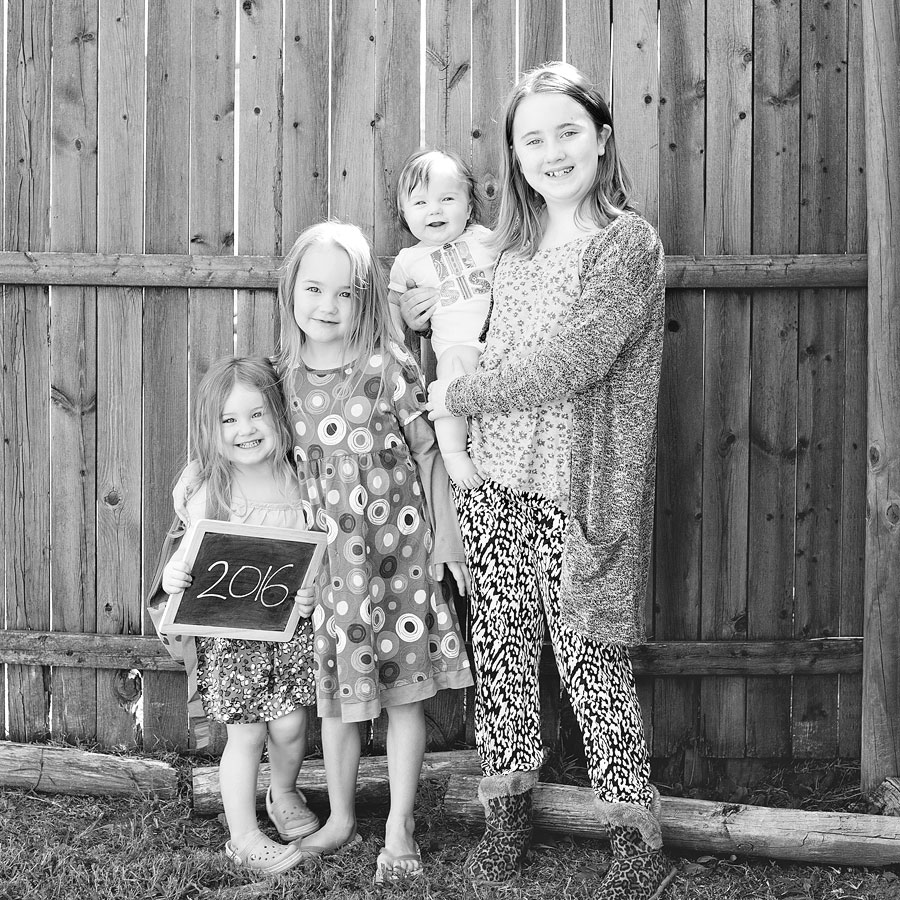 I thought it would be fun to share how our day went…but barely got a chance to sit down to write, so forgive me for not having a nice polished post.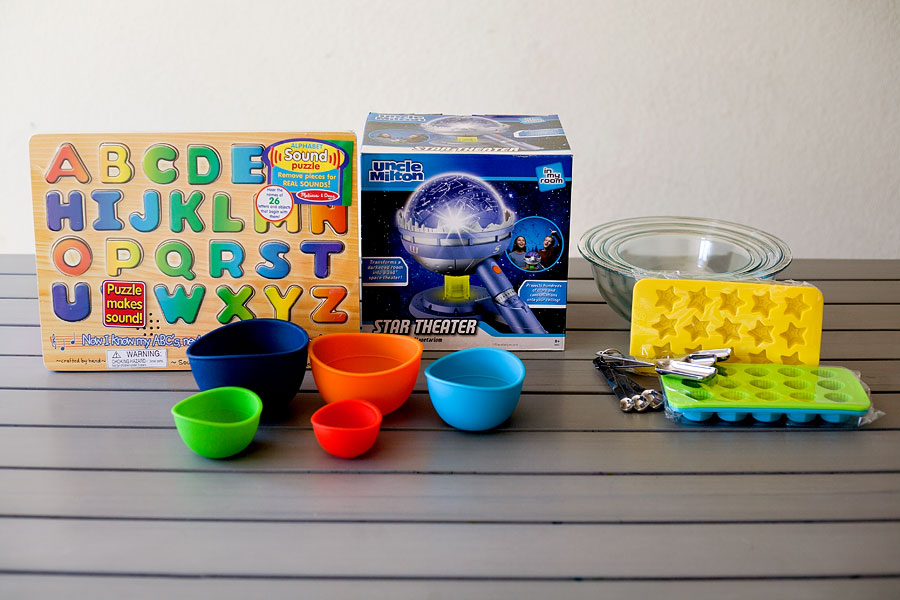 I've made it a tradition to start the year with a handful of new goodies. I didn't grab an many as usual this year because I'd just  bought new art supplies for the video art lessons we've been doing. And we have a bunch of stuff that we'd either received recently, or will be receiving soon to review as well.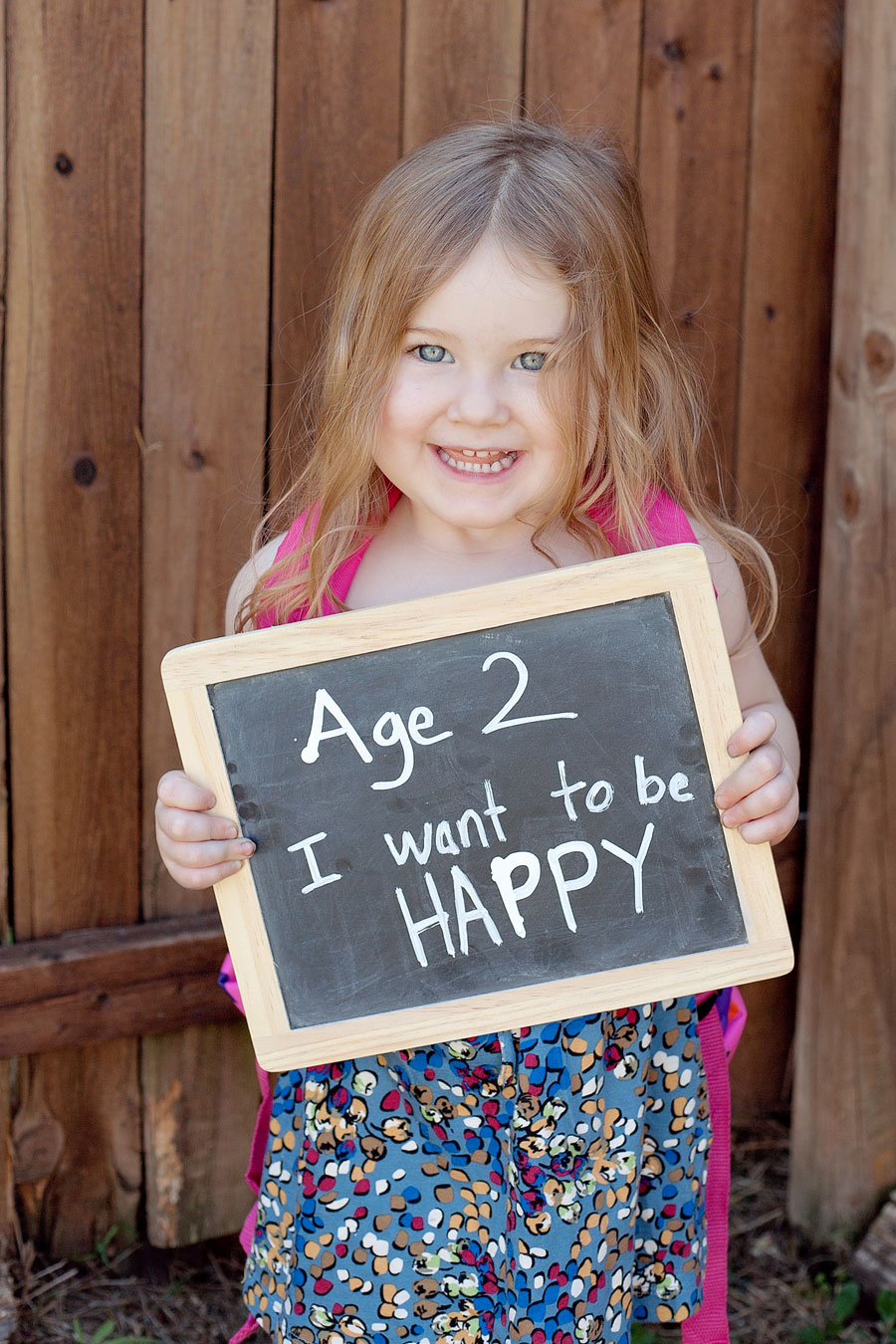 Our other start of school tradition is to take pics of each girl holding a sign with the grade they're starting (or their age) and what they want to be when they grow up. Smiles' answer this year was "happy" which is pretty much the best thing ever!
Anyhoo –  here we go, homeschool: year 5, day 1!
7:30 – Up & at 'em, unfortunately. Wish I could sleep later…I am NOT a morning person. While I make and drink my coffee I talk Boo through melting some chocolate and pouring it into molds to make candy so she feels special spending time with me and "cooking" which is one of her goals this year. Bonus – I have  to try a piece once it's done or she'd be sad. Yay chocolate! Plus there's almost always some math going on when we cook, so we get to kill two or three birds with one stone. 🙂
8:00 – Boo works on teaching Smiles the letter D while they color printable pages together, then Smiles makes some freestyle art with Kwik Stix before proudly putting together her alphabet puzzle. (At which point I consider our preschool activities for the day completed.)
9:00 – I come across our wiki sticks while trying to find the sight word bingo (that's apparently missing) so I take a little time my 3 littlest girlies to play around with those (Apple's version of play = try to grab and eat them while I try to NOT let her grab and eat them). Boo teaches me about the life cycle of a butterfly. 🙂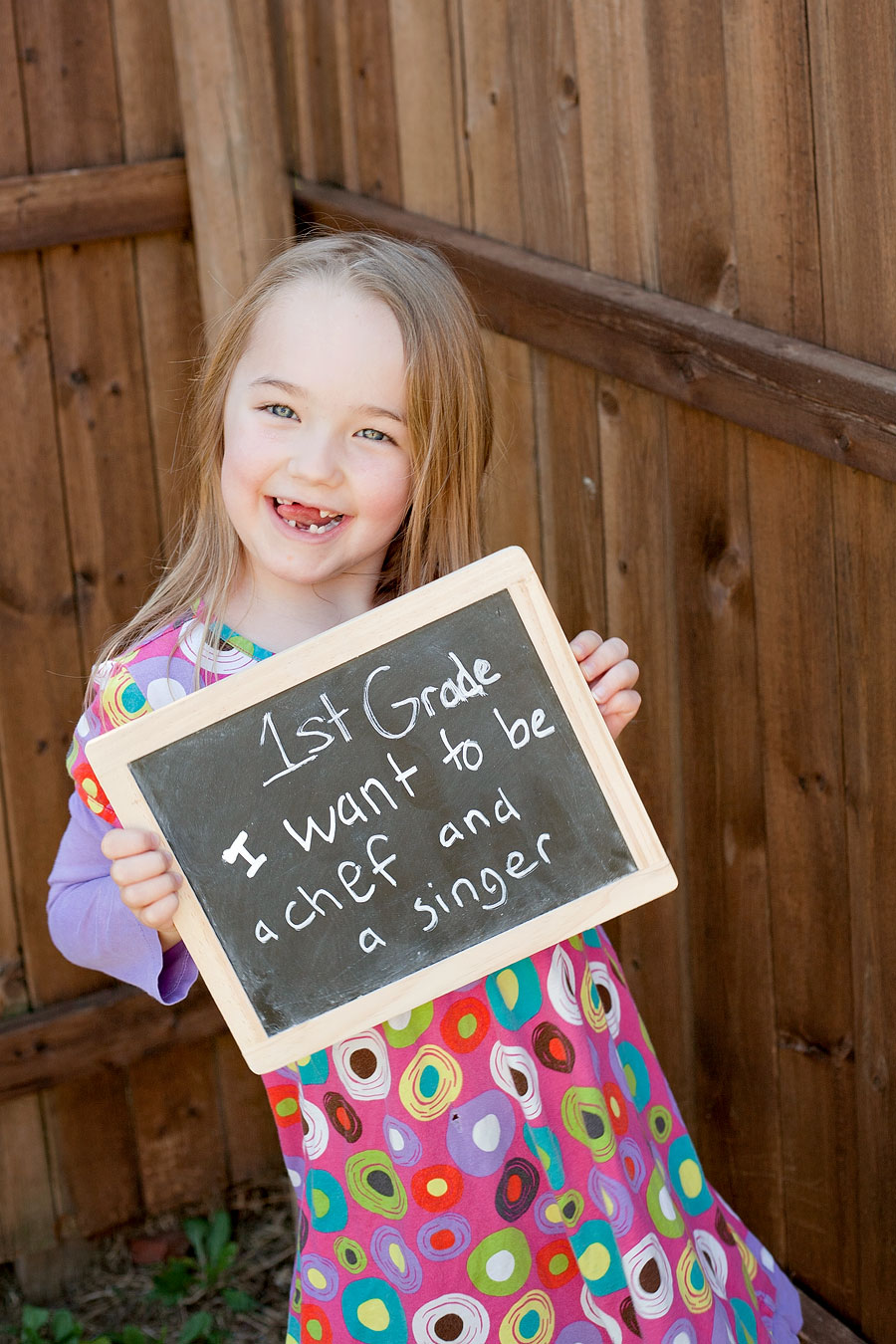 10:00 – Play some Starbound with Boo. Filling her bucket. #qualitytime
10:30 – Artist graces us with her presence at last. 🙂 Poor babydoll had a nightmare and didn't rest well. Yay for being able to sleep in! We all pile on my bed, I nurse Apple to sleep, and we do our devotions and read a chapter from Key to Extraordinary! (Awesome book!!!)
11:00 – We each get on our computers for a bit, the girls playing games and me checking email and doing all the things.
12:00 – We read a page of Astronomy then pause for a quick hands on activity that gets out of hand and turns into flour all over the kitchen because – kids. 😉
1:00 – Lunch
2:00 – Artist works on math (with CTCMath) and Boo works on reading (With MaxScholar and Ultimate Phonics)…the main  subject each of them is needing to focus on growing in.
3:00 – Artist makes play-dough and they all play.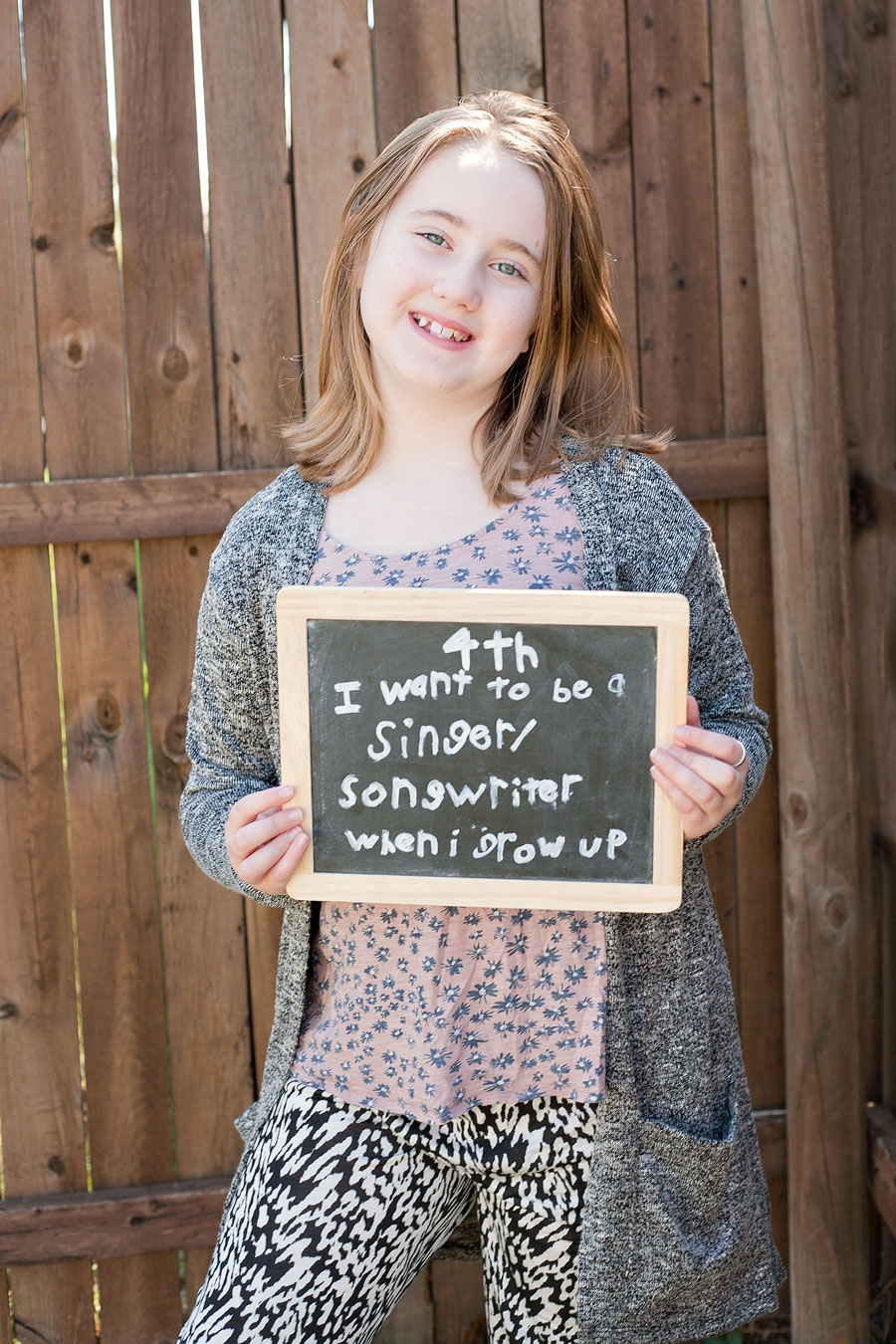 3:30 – Neighborhood friend pops by to play. We all duck into the bathroom to check out our new star projector which is pretty much an epic fail. Bummer.
Throughout the day, Smiles makes tons of artwork, and watches a bunch of Little Einsteins. Apple rolls around everywhere and tries to see how many ways she can already get into mischief at just 6 months old. I also drink at least  three cups of coffee, move the freezer meal from the fridge (where it was defrosting) to the slow cooker so we can all eat dinner, and…
Well at that point the day got away from me. On day 2 Boo made gummy bears in the morning instead of chocolate, we didn't have an astronomy activity and didn't make play-dough, so I managed to fit in an art lesson instead. We read some of Percy Jackson's Greek Gods and did some Just Dance. Tomorrow we'll probably prioritize just devotions, reading together, and math/reading lessons cause Artist and Boo have piano lessons (through skype with their awesome teacher who lives in NYC now!) Hopefully at least one day this week I can carve out some time where we can all, myself included, just sit in the living room and read a book (well Boo can listen to an audio book).
Also on my to-do list for schoolish stuff this year – Artist and Boo both want me to teach them some photography, Artist is about to start a new French curriculum, and I need to encourage both girls to pick a new topic they'd like me to print them some notebooking pages for.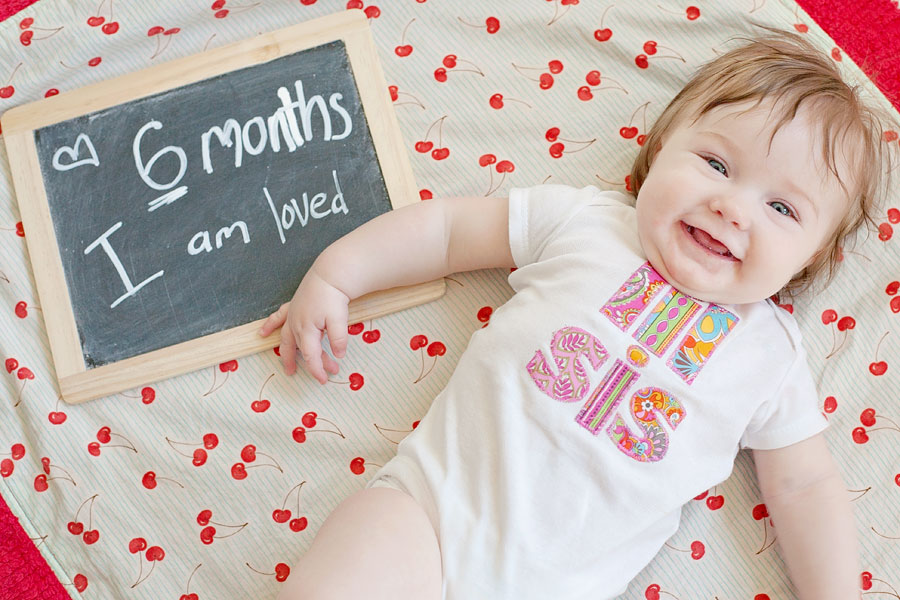 Also in our day – my little night owl, Artist, and I typically snag some one on one time together after Boo hits the sack. And she generally reads a least a couple chapters of whatever book she's into before bed at night – right now that's the first Heroes of Olympus book.
Hmm, so when I write it all out it kind of seems like we didn't really accomplish much, but I felt busy all day.
My biggest challenge right now is finding time to write, both on my blog and my novel. And finding any time for myself to relax, read, etc. But anyway, that was our first day. Well first 2 days at this point. And I decided to share our first day of school pics because I can. Plus I think my girls are pretty awesome! 😀
And now Apple just woke up from her little cat nap in my lap, and Mike will be back soon with dinner from Fuzzy's and I need to get my girls to help me do laundry and clear the table and whatnot so, later gators!
DITL – Eclectic Homeschool Style