Fridays are our family game night! We order a pizza, which we eat in front of the TV while we watch something on Netflix, and then dive into a tabletop game! I've decided to share some with you guys because there are so many we LOVE that I've realized most of my friends have never heard of. This post should probably come with a warning…I already turned one of my friends into super-fun-game  addicts! Seriously, after the first time their family played a couple of our games with us they drove 45 minutes to the best game store around to get some awesome ones for her family, too! #sorrynotsorry 😉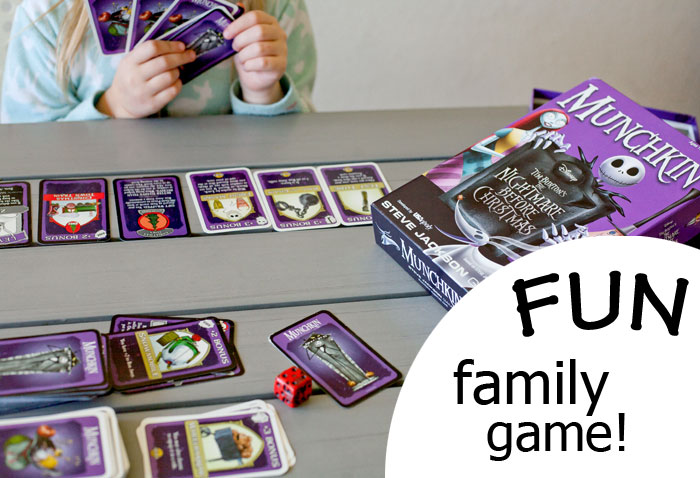 Today's game is: Munchkin – The Nightmare Before Christmas!  😀
It's a card game for 3-6 players, supposedly ages 10 and up, but our non-reading 6 year old has learned to play on her own team after a few times of playing and becoming familiar with the cards. A big part of the fun for us with this particular version is that we're all huge fans of The Nightmare Before Christmas! But there are a million flavors of Munchkin, including plain vanilla Munchkin.
Basically, in the game you collect items that make you stronger and you fight monsters and gain levels. You can also help – or hurt – the other people playing. Artist is cutthroat and always playing curses on people and making the monsters they're fighting stronger so they're harder to beat. Boo is always trying to help everyone and make allies. Boo often wins. 😛
This is one of the games we play most often when we have about an hour to devote to playing. We just got a Wizard of Oz themed Munchkin, and a Munchkin add-on pack that creates new dynamics, too!
I'll share another game we love next Family Fun Friday – which will probably be in 2 weeks, right now I'm alternating with my "Mom Hacks" posts. Sign up to subscribe to my posts via e-mail (there's a spot on the right sidebar, or below the post if you're on a mobile device) or follow me on Facebook if you want to be sure not to miss it.  🙂
Family Fun Friday – Munchkin