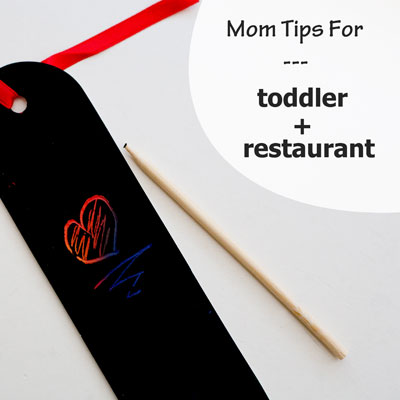 Ever try to go to a restaurant with 4 kids under the age of 9 and realize it practically would have been easier to make a seven course dinner from scratch?!? Inevitably before you've even gotten your food you're regretting the decision to eat out…the baby is crying, the toddler who just started wearing panties is bored and wants to fill the time by claiming she has to go potty over and over, and you don't dare risk telling her no in case it's true…and the 6 and 8 year old are arguing because only one of them got a blue crayon in the tiny little 2 pack of crayons the restaurant gave them, and they've both  just decided that blue is their favorite color. Oy!
I finally decided last year to stop putting myself at the mercy of the often super lame (and occasionally non-existent) kids coloring pages at restaurants to distract starving kids while waiting for food to arrive. I've started stocking my diaper bag with a handful of items that I reserve only  for restaurants (or other situations where we have to wait while we're out of the house).
One of my favorites is scratch art. There are a number of scratch art "party packs" by Melissa and Doug on Amazon that I divide up into individual zippies so each kid can make their own bookmark or whatever. Another go-to item is play-doh or other clay. I actually prefer Crayola brand "Model Magic" because it's nice and soft and easy to shape (be sure to pack extra zippies to seal it in after it's played with so you can use it again another time). Last but not least, my kids can all be entertained for quite some time with cheap sticker books, especially goofy ones like Funny Animal Faces, etc.
Do you have any tricks up your sleeve for helping little kids stay happy at restaurants? I'd love to hear them! 😀
I'll share more tips next Mom Hack Monday in 2 weeks – right now I'm alternating with my family fun night ideas. Sign up to subscribe to my posts via e-mail (there's a spot on the right sidebar, or below the post if you're on a mobile device) or follow me on Facebook if you want to be sure not to miss it. 🙂
Mom Hack Monday – Boredom Busters