The Pencil Grip, Inc. sent us two of their products to try free for a review: The Ultra Safe Safety Scissors and The 3 Step Pencil Grip Training Kit.
The Ultra Safe Safety Scissors are for ages three and up. The scissor blades are covered with a plastic safety shield to prevent the cutting of anything except paper. When the scissors are all the way open there's a thin slit between the blade and the protective shield that you can slide a piece of paper into to cut it. The tips are curved to there's no risk of harm from your child poking herself with sharp scissors, but the blades themselves are actually sharper than most if not all other safety scissors since the protection is provided by the shield rather than by dull blades.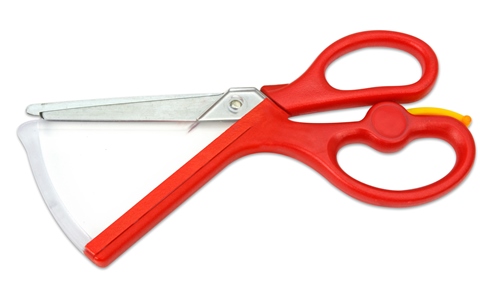 I wish we'd had these a couple months ago when, after making it through two kids without any scissor incidents, my almost four year old, Smiles, cut off a chunk of her beautiful hair. She didn't even mean to as far as we can tell. It seems she was trying to cut paper and her hair fell in the way and she accidentally cut it. And then she tried to fix it by cutting some more before she came to us in tears to tell us.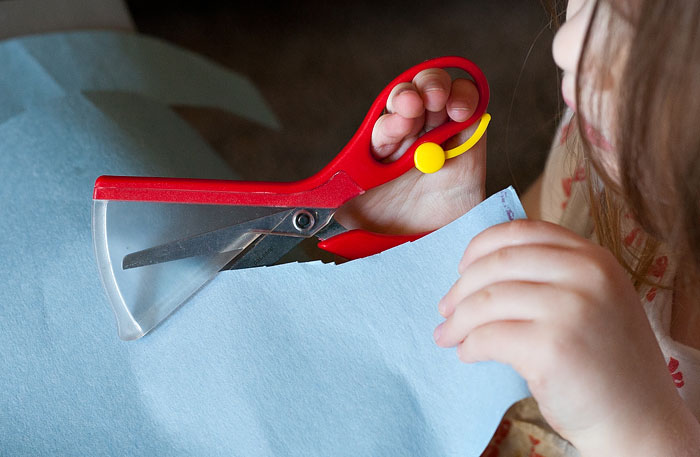 She unfortunately doesn't really love using The Ultra Safe Safety Scissors because she'd gotten used to using regular scissors and these take a little more patience I think to insert the paper carefully into the little slit, but at least her hair is safe. I think these would be great as the first scissors a little kid learns to use, rather than re-training to use these instead after the fact.
I asked my seven year old to try out The 3 Step Pencil Grip Training Kit. It includes The Crossover Grip for Training, The Pinch Grip for Transitioning and The Pencil Grip for Graduation.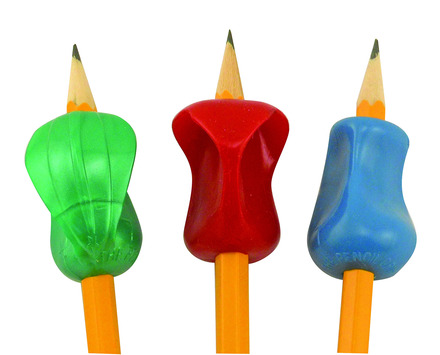 It took us awhile to figure out how she's supposed to use each one, but after trying them all she settled on the crossover grip as her favorite right now, though she still needs us to help her get her fingers on it correctly every time. She was already holding her pencil well before and doesn't really love using any of the grips, but I can see that they would be great for a kid who is struggling with proper pencil grip or as beginning tools when first teaching it, probably around kindergarten age (my three year old seems to young to attempt these, but some younger kids may be ready). I'm sure these ergonomic writing aids could be great for someone with arthritis or discomfort when needing to use a pen or pencil for extended periods of time as well.
Be sure to check out the Homeschool Review Crew link-up to see what other reviewers have to say about these products. 

Review of The Ultra Safe Safety Scissors and The 3 Step Pencil Grip Training Kit