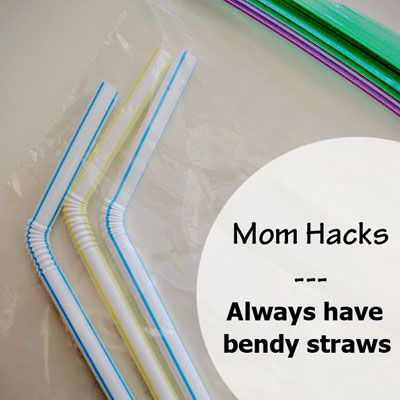 So I don't know why it took us until kid #3 to figure out how to prepare for eating at a restaurant with little kids, but in any case, we finally got smart!
My number 1 tip is this:
TAKE BENDY STRAWS! 😀
Seriously, keep a few in your diaper bag and then when your toddler gets her drink, put in your straw from home instead of the way too long for a kiddie cup, straight straw that's almost always the only option the restaurant provides.
I can't tell you how many times one of our kids has spilled their lemonade all over themselves because they tilted their cup to try to drink out of the restaurant straw.
Anyhoo, I'll share my next restaurant tip next Mom Hack Monday – which will be in 2 weeks, right now I'm alternating with my family fun night ideas. Sign up to subscribe to my posts via e-mail (there's a spot on the right sidebar, or below the post if you're on a mobile device) or follow me on Facebook if you want to be sure not to miss it.
What's your best tip for tackling a restaurant with little kids? I'd love to share some of your ideas, too! 😀