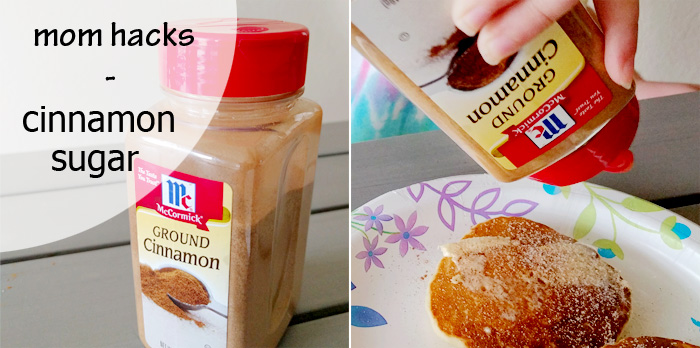 One of my girls' favorite breakfasts is cinnamon toast! It was the first food my 9 year old began making herself. Of course the first time she made it I got distracted while it was in the oven and totally burnt it…cause I'm awesome.  😉
But I digress. My Artist also loves cinnamon and sugar on biscuits and pancakes and anything you'd normally put syrup or honey on, so I try to keep some pre-mixed. Last weekend while my awesome husband was making pancakes for the fam, I went to grab our little container of it and discovered it was time to make more. We also happened to only have about an eight of a bottle of cinnamon – and a genius idea was born!
I just added sugar to the cinnamon bottle till it was the ratio we like, and shook it to mix.
Now my kids can shake the mixture on their food themselves without getting way too much and/or making an epic mess! Yayness!
I'll share more tips next mom hack Monday in 2 weeks – right now I'm alternating with my favorite fun family games. Sign up to subscribe to my posts via e-mail (there's a spot on the right sidebar, or below the post if you're on a mobile device) or follow me on Facebook if you want to be sure to not miss it.  🙂
Mom Hack Monday – Cinnamon-Sugar