This week's game is one of my all time favorites – Smash Up  "The Shufflebuilding Game of Total Awesomeness!"
The premise is that each player chooses 2 different decks, shuffles them together, and tries to win bases. Assuming that each player doesn't always choose the same 2 decks, you never have the same game twice. We currently own every single expansion, which means we have about a million (or at least 40) decks to choose from.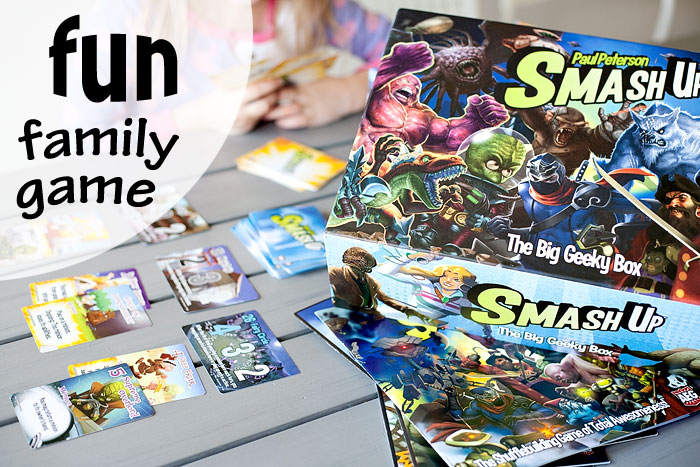 Each deck has it's own faction, for example, the main box includes Aliens, Zombies, Ninjas, Pirates, Dinosaurs, Wizards and more. My girls' favorite expansion is Pretty Pretty Smash Up that has  Princesses, Fairies, Mythic Horses, and Kitty Cats. The combos we can make at this point are just about limitless! I love being Steam Punk Princesses or Shapeshifter Geeks! Sharknadoes are fun, too!
Smash Up can be a bit more complicated to learn than the other games I've shared so far. Boo can't play on her own, and often even when she's on a team she often gets bored before the game is over (games typically take over an hour to play). Which means it's more of a game Mike and I will play after the kids are in bed, or we'll play with Artist on one of the 2 nights a week where she secretly stays up for some bonding time after her little sisters go to bed. It's also our go-to game if we have adult friends over.
Perhaps when I've finished sharing our favorite family games I should also share the games Mike and I most enjoy playing together, just the 2 of us.
For now, tune in next Family Fun Friday – which will probably be in 2 weeks, right now I'm alternating with my "Mom Hacks" posts – for a more casual, little kid friendly, game option. Sign up to subscribe to my posts via e-mail (there's a spot on the right sidebar, or below the post if you're on a mobile device) or follow me on Facebook if you want to be sure to not miss it.  🙂
Family Fun Friday – Smash Up