It's the most wonderful time of the year…unless you're heading to ridiculously packed malls to do your Christmas Shopping. Can I just say how much I love Amazon Prime?!? (Side note, do you use Amazon Smile to support a charity? International Justice Mission is a great charity if you don't know of one to choose.)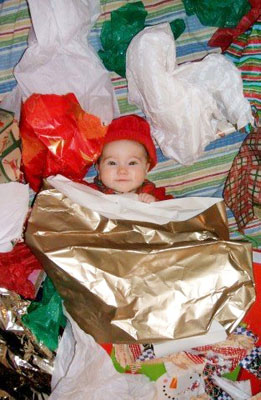 Anyway…I know a lot of folks have started doing the the whole 4 gifts, "want, need, wear, read" thing, which I think is awesome.  We've been doing it for years now, after our first baby's first Christmas when we went a little ridiculously crazy with gifts, even though she was 6 months old and literally thought the wrapping was the best part. 😉
But this year I decided to tweak it a little.
When I asked Artist to write a wish list for the four categories she replied, "But I don't need  anything."
Wow. As a Mom, that was one of those, "Thank goodness we're doing something right" moments, know what I mean? She realizes that she already has everything she truly  needs. I made myself a second fifth cup of coffee to celebrate!
And then I started to wonder whether I'm not doing my kids any favors by perpetuating the idea that one of the gifts we give them at Christmas is an actual NEED.
What we've typically given to fill the "need" spot is a school related item.
I threw back a few (more) cups of coffee for good measure, and brainstormed about how I could change the wording for us. Here's what I came up with.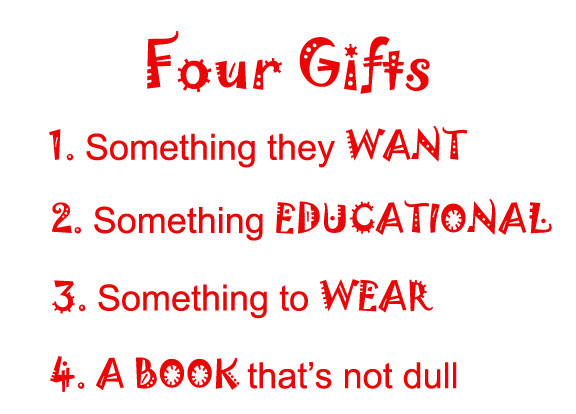 Like I said, this doesn't really change what gifts we give, just how we label them. And I feel a lot happier about these categories than calling something a need that isn't.
What do you think? If you do the "want, need, wear, read" what do you give as the need? Of course if they were for me you could totally give me coffee for the need category…I'm a Mom, the coffee need is legit. 😀