I adore it when someone shares new products or companies they think are great! So I'm jumping on that bandwagon.
I'm having a great time with the 1 Second Everyday App! All I have to do is take at least 1 second worth of a video of whatever I want every day, and then it keeps track of all my videos by date, and I can go in at any time and select the 1 second I want to use each day and it puts them together into a movie for me! Here's a very short snippet of mine:
I also love Bountiful Baskets! It's a Co-op for fruits and veggies. You order a basket on Monday, pick it up on Saturday, and get a bunch of random, delicious goodies. I'll admit it's sometimes a challenge to then plan ways to use all the veggies, but the fruit is easy to devour!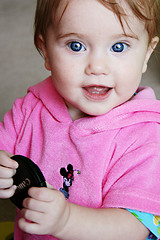 Probably my favorite "thing I love" is my go-to camera lens…if you have a DSLR and want to take better pics, get yourself a "nifty 50" lens (50mm f/1.8). I'm not sure about Nikon lenses, but you can get this Canon one from amazon for only $100.
(I wanted to add a picture of my lens, but it turns out I'm almost always using it and therefore apparently don't seem to have a picture of it….but here's a picture of Artist as a baby holding my lens cap. 😉 )
Speaking of Amazon, if you haven't heard of Amazon Smile, you should check it out! When you shop Amazon Smile, Amazon donates a portion of your purchase price to the charitable organization of your choice.  Simply visit smile.amazon.com, log in to your normal Amazon account, and select your charity! I'm currently supporting International Justice Mission!
Also, check out The Pioneer Woman's photography tutorials. (Did you know those exist? They're pretty much the main way I taught myself photography 7 years ago.) 😀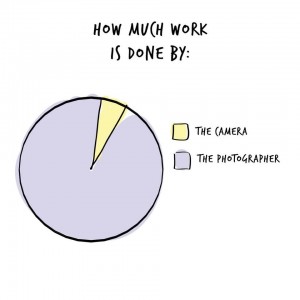 P.S. A little disclaimer: while the nifty fifty is a great lens, it will not in and of itself make you an awesome photographer. Also, you will annoy me greatly if you say anything along the lines of "Wow, your camera takes great pictures!"
If you're curious about the breakdown of camera vs. photographer. here's a fun little pie chart shared by Photographer Cafe that you might find helpful. 😉
Happy Friday!!!