My friends…this has been on my heart since last night. I will be the first to admit that I know very little about ALS or the bucket challenge that's been going around.
But I've seen lots of people get on board and sacrifice a little of their time and comfort to accept the challenge, post a video of themselves getting drenched by a bucket of ice water, and tag others to keep the momentum going.
I've read some criticism that people should stop pouring buckets of water and just donate, but apparently the challenge is actually working incredibly well, and I know many people are doing both. I just read that donations have reached $22.9 million!!! Wow!
But I've also seen quite a bit of pushback saying that people shouldn't be wasting water when there are so many in the world without clean water. To those who feel this way…I hear you.

I've been to Africa and seen kids drinking dirty water. It's heartbreaking! You guys, I saw sweet girls around the ages of my own daughters walking for miles to fill their buckets with grey, dingy water. I wholeheartedly agree that people not having clean water is awful.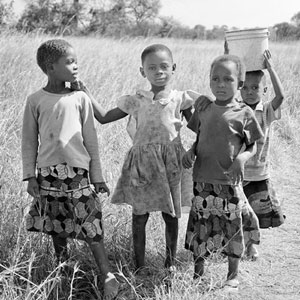 But here's the thing. I don't see how NOT throwing a bucket of water on your head is going to help anyone get clean water.
If you are passionate about clean water, by all means do something! Start a campaign of your own! Donate money to World Hope International or another organization helping to provide clean water. Pray about it. Tell all your friends. Get creative and just do something, anything, to make a difference.
Can I just suggest one thing, though? Don't bash the thing that someone else is doing.
My Bible reading this morning with IF:Equip was in Galatians 2, and one of the points made in the discussion was, "They supported each other in one another's calling."
I would just so love to see us all do that. To be encouragers. I'm talking to myself, here, too. I completely understand wanting everyone to get on board whatever it is that we are passionate about.
But friends, my sisters in Christ, wouldn't it be so incredible if each of us did what we could to make earth look a little more like Heaven, and embraced each other along the way, enthusiastically supporting one another.
So even though ALS isn't something that's even been on my radar to care about, if someone tags me and asks me to support those who are passionate about this by keeping the momentum going, I will. 🙂