Hi friends! So far I've offered up my ideas for stocking stuffers, baby's first Christmas, and gifts for little kids…and now for the best list of all, gifts for people you don't really like. Let's face it, we all have people who just rub us the wrong way for whatever reason. Well, now you can passive-aggressively get your feelings out by gifting their kids any of the items on this list. You're welcome. 😉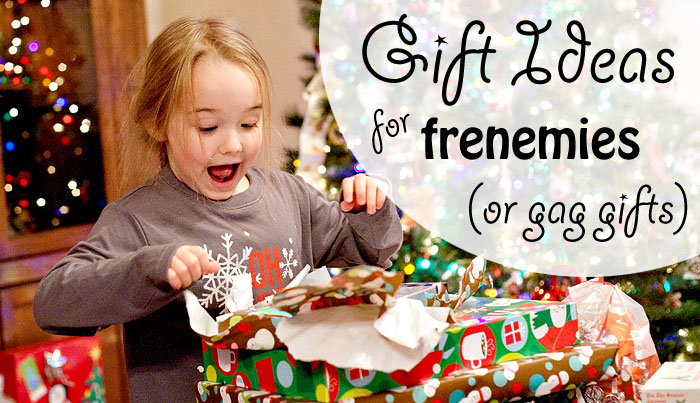 1. A recorder! Any one will do but this Frozen themed one with a songbook will just really take the cake when it comes to its ability to annoy!
2. Glitter! This set of 24 glitter shakers is sure to get glitter everywhere!  Yay!
3. NON washable Crayola markers – this is a sneaky one because they look just  like the washable ones so parents will have no idea what horribleness they are about to unleash when their kids go crazy with these!
4. Tiny, individual foam stickers with white backing – here's a 1040 piece option!!!! Sooo many tiny pieces of trash to be scattered everywhere!
5. Anything with 100s of pieces, like this Melissa & Doug Deluxe Wooden Stringing Beads with over 200 beads – great fun for your  friend's 3 year old….to DUMP
6. A special doll whose hair you're supposed to cut, like this one….give them the idea to cut all the dolls' hair, maybe even their own!
7. A realistic looking snake toy! This one looks nice and terrifying. Kids will love hiding it under their parent's pillows! Fake spiders work, too.
8. Kids radio programmed with annoying songs…this one would be a great choice accoring to reviews like, "my little girl has to stand at full cord length away to prevent high pitched feedback." Awesome!
9. Baby alive! This doll drinks and wets! Yay water everywhere! Plus if the kid falls in love, the parents will have to keep buying more diapers for it!!!
10. A trading card starter pack, like this Disney Frozen one – get the kid hooked so they'll keep begging their parents for more!
Bonus item – A Dino-Roar. This toy makes the most annoying sound I've EVER heard when you squeeze it…only downside is it's not longer made, so you'd have to shell out the big bucks. I suppose any toy that makes an annoying sound when you squeeze it will work, though.
Also consider: a creepy clown mask, a harmonica, a whistle, a toy puppy that barks, and fake vomit or poop.
P.S. These would all work for great gag gifts or white elephant gift exchanges, too.  😀
Christmas Gift Ideas for Frenemies