For my girls, we decided awhile ago to give four gifts each on Christmas.
Something they want.
Something educational.
Something to wear.
And a book that's not dull.
Here are the tops ten items I've brainstormed to choose those four gifts from this year for Smiles, my three year old! 🙂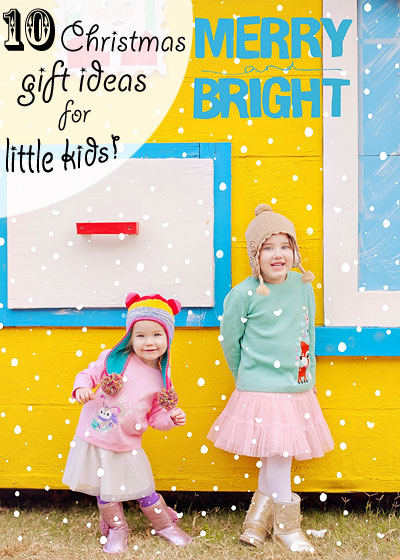 1. A learning experience. Maybe a fun art or science class for preschoolers at a local rec center.
2. An outing. Taking a trip to the zoo or aquarium or some such.
3. Art supplies. Smiles loooves watercolor paints and markers and whatnot.
4. Puzzles. Smiles loves peg puzzles and even 12 piece wooden jigsaw puzzles.
5. The Wonderful Things You Will Be  by  Emily Winfield Martin. I've heard this beautiful book is one you'll love reading to your kids, it's definitely on my list of choices for a book. If I didn't already have The Jesus Storybook Bible  by Sally Lloyd-Jones, though, I'd probably get that, because we absolutely love it!
6. Dr. Suess board books. We already have a few, but I might get more because for all my girls they've been the books they choose most often to have me read.
7. Magna-Tiles. We got a big set for my girls to share for Christmas last year and they are still  played with nearly every day, so this year I think I'll get an expansion set or two.
8. Fox socks like these. Because they're just the cutest thing ever.
9. An alphabet stamp set. She's been working on learning her letters, plus she loves all things arts and crafts.
10. A  Microscope for little-bitties like this. She already has a Science Lab Set and she plays with it all the time, I think she'd love a microscope, too!
Other gifts we've given our girls around ages 2-5 in the past that have been huge hits include a play kitchen with play food, a reindeer to bounce on, a simple swingset, soft non-sticky clay (Crayola Model Magic), Stikits – little blocks you moisten and stick together to create sculptures, small backpacks (no clue why, but my all my girls have been ridiculously fascinated with putting stuff in backpacks and wearing them around at this age), Mega Bloks, Seashore Baby  a board book by Elise Broach – two of my girls have been completely obsessed with this book, and a babydoll with a care set of bottles and such.
Also, fyi, some items we had high hopes for that turned out to be duds included a LeapFrog Tag Junior, Play-Doh accessory sets, a special Warmheart Rag Doll, a Radio Flyer My 1st Scooter, and a majority of all the stuffed animals that somehow manage to just constantly cover the floor of the girls' room.
Gift Ideas for Little Kids