Hi guys! It's time for my first review of the year for the Homeschool Review Crew. Last month I received HISTORY  Through the Ages Project Passport World History Study: Ancient Greece from Home School in the Woods.  We'd already been studying Greek mythology to tie in with the Percy Jackson and the Olympians  books my nine year old, Evergreen, has been reading so we were excited about this product. 🙂
What it is: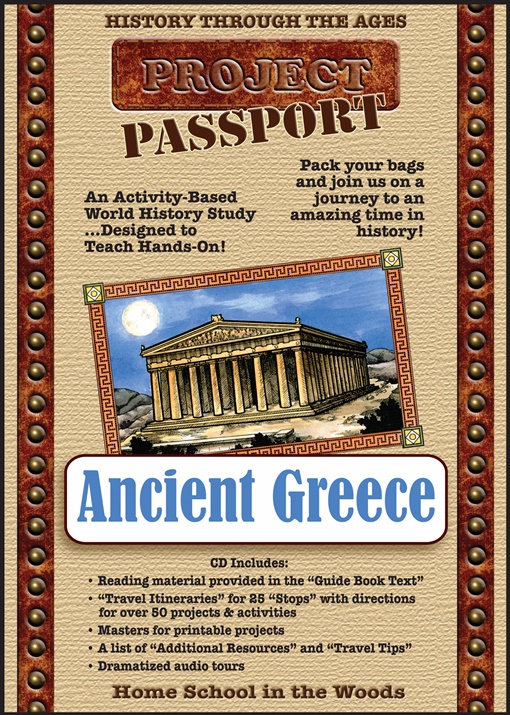 HISTORY Through the Ages Project Passport World History Study: Ancient Greece  is a hands on history course for third to eighth grade. We received a downloadable resource, but there is a CD version as well. The idea of the study is to imagine you are taking a trip to ancient Greece and experiencing the culture and history through twenty-five stops on your trip. The course is designed to take eight to twelve weeks, but so far we've only been doing about one stop per week, so I imagine it will take us longer to complete.
Each stop includes a portion of text to read and then a handful of activities to bring it alive. Some of the activities we've done so far include coloring and labeling maps, creating a family tree, reading a postcard written as though it was sent by a historical figure and then drawing a picture on the back, and writing newspaper articles. The study also has lap book projects, audio tours, 3-D projects to create, authentic recipes to try, and a lot more.
How we're using it: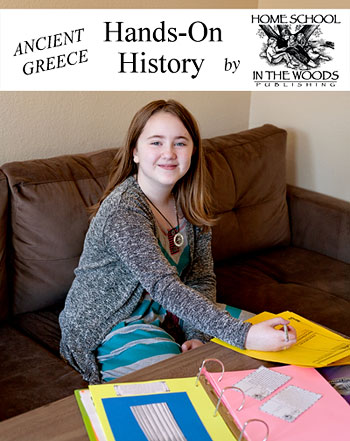 As I mentioned earlier, we've been doing about one stop a week right now, but it looks like some of the stops are less time consuming, so we may be able to work at a slightly faster pace at some point. Each stop has has a travel itinerary that walks you through a set of activities. Make sure you have a good printer and plenty of ink because you're going to need it!  As our first step on each stop I print out the informational text and let Evergreen read over it, at least I do now. 😉
This study includes a lot of material and since the travel itineraries don't actually tell you to read the text for the stop, and it's in a separate folder from the other stuff I was printing,  I literally missed that it existed until week three. Oops.
Anyway, we started out trying to exactly follow all the directions and do every project just the way we were instructed to, but we quickly discovered that sometimes that just didn't quite work for us and we needed to make slight modifications. By stop number three I decided to leave out one activity completely and cut out a chunk of the most time consuming steps in another one, but I don't mind needing to tweak curriculum to suit us. As far as I'm concerned, that's one of the great perks of homeschooling. Plus Evergreen is in fourth grade, so she's at the lower end of the age range this is designed for. I imagine our experience would be different is she was four years older. That said, if I really wanted to I could actually include Boo, who is in first grade, on almost all of the projects if I was willing to help her quite a bit. I'm sure she would enjoy it, I just don't have the time. I was actually hoping that Evergreen would be able to mostly just take the reins with this study and do almost all of it independently, but for most of the activities she needs me to help her figure out what to do. She's usually able to run with stuff once I get her started, though, so that's good.
One of the most recent activities we did involved cutting out and putting together Greek columns. Evergreen really enjoyed it and told me she thought it was cool that people still use Greek inspired architecture today. We looked at some pictures of the Capitol Building and Supreme Court Building online so she could see the columns and she seemed quite impressed.
How we like it: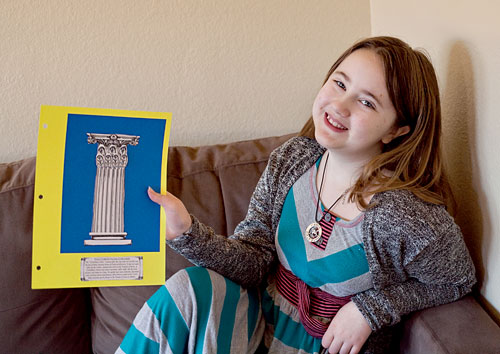 HISTORY Through the Ages Project Passport World History Study: Ancient Greece  is a hit! Evergreen loves it. I needed her to do one of the activities on Valentine's Day when we were otherwise not doing school and her sister Boo acted appalled that I would be so mean, but Evergreen told her, "No, I like my Ancient Greece school." 🙂
I wasn't quite prepared for the amount of work that goes into a super hands-on project like this, and on the first stop we had to put together the passport and luggage folder and prepare a number of other items and it overwhelmed me a bit. If we do another Home School in the Woods  project we can re-use some of the things, so there's that.
I also didn't have most of the materials we needed, so I had to purchase card stock and colored card stock, colored paper, a three-ring binder, colored file folders etc. Even without buying  the optional lamination sheets I ended up spending over $50 on materials. We'll have extras of the papers and such, so I imagine if we do another course I won't have to spend as much, but I wasn't prepared for the cost of materials.
Artist is learning so much, though, and having a great time doing it. 
I've heard a number of people declare that they could never homeschool their kids because they just don't know enough. This resource is a perfect example of why you really don't have to worry about how much you know. I don't remember much at all about ancient Greece, and certainly couldn't have come up with the ideas for most of these projects of my own, but that's okay, because I don't have to. I'm so grateful that I'm homeschooling in a day and age with so many great resources at my fingertips!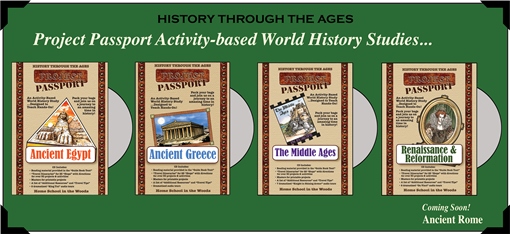 I just learned that Home School in the Woods is working on an Ancient Rome study that will be out in 2018 and I think I'd like to give it a try, too, since Evergreen is also a fan of  The Heroes of Olympus  books that are inspired by Roman mythology.
I'd definitely recommend HISTORY  Through the Ages Project Passport World History Study: Ancient Greece to anyone who wants to make their study of history very hands on, especially if your child is old enough to follow multi-step instructions, print, cut, assemble etc. all on their own. 🙂
Be sure to hop over to the Homeschool Review Crew link-up to check out what other reviewers think of this Ancient Greece study, as well as the other world history studies by Home School in the Woods.

A Study in Ancient Greece