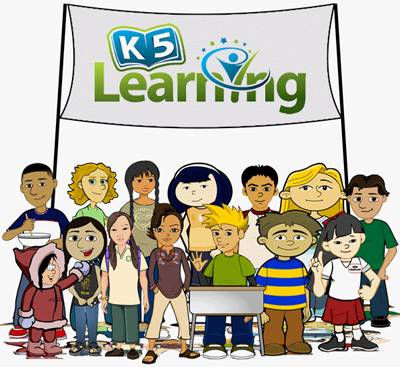 At the end of April, K5 Learning gave me a free six month subscription to their online program to review. 
K5 Learning is an online program for math, reading, and spelling that is intended to be used as a supplement to other curriculum. As the name indicates, it's for kindergarten through fifth grade. It can be used with up to four students, and subscriptions can be purchased on a monthly or annual basis. In addition to the online lessons, K5 Learning provides custom, printable worksheets.
Boo, who is wrapping up first grade, has been using the reading portion of this program to supplement the physical reading curriculum we're using. She's also done a handful of the online math lessons. She didn't use the spelling portion of the program, but there are a number of options for spelling quizzes including commonly misspelled words, SAT words, and your own custom list of words.
K5 Learning had Boo start out by completing math and reading assessments and then determining where to place her in math, and in a number of different reading related areas such as phonics, sight words, vocabulary, and reading comprehension.
She enjoyed taking the assessments, and I initially felt like it placed her fairly appropriately in all the areas. Once she began, however, I realized that some adjustments were needed. For this program, in order to change the level on the pre-assigned lessons, you need to send an email through a form on the website requesting the change. You can also choose to assign each lesson that you want your child to work through rather than having them utilize the lessons queued up for them based on the results of their assessments.
For math, Boo was stuck on second grade lessons that were focusing entirely on her reading number words, and since reading is really just  beginning to really click for her, these lessons were frustrating. I decided to contact K5 Learning about moving her past those lessons, but the only option was to go ahead and move her to mid-second grade, so I just helped her through those lessons instead. Once she made it to other math content we discovered that the lessons were too easy, but the math instruction was also just not the best fit for her so we decided to focus on the reading portion of K5 Learning.  I don't think that Boo is actually advanced in math. She just  completed her physical first grade math curriculum, and it was about right for her. I expect that she will begin a full second grade math curriculum in the fall. So K5 Learning may be a good choice for a child who is struggling with math and could use some remedial practice without feeling like they're doing below-grade-level work.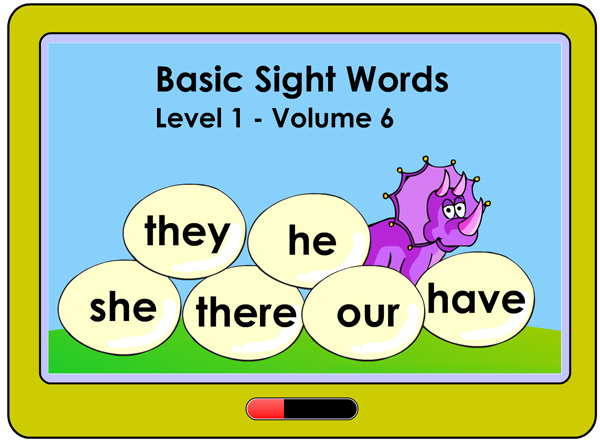 Within the reading program, the lessons on sight words were great. Boo is needing to work on sight words right now, and these lessons repeated the words enough that she made some good progress in memorizing them. I just wish that some of the lessons could go a bit more quickly. A typical lesson would say something like, "Click on the word 'our' in the sentence."  And then it would slowly read the sentence, "This is our cave."  Then she would finally be able to click the word, it would tell her she was right, and then she would get to move on to the next sentence with the word "our."
Since Boo already knew she was working on finding the word "our" she would have been able to complete the lesson much more quickly if she'd been able to click on the word as soon as the page came up and then immediately move to the next page.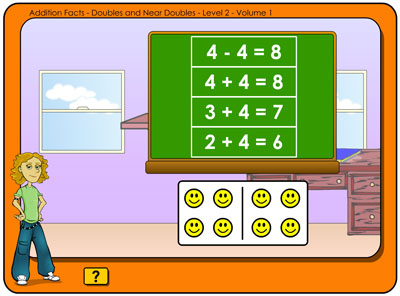 The lessons that K5 Learning had set up for Boo also included vocabulary. These lessons were still way too easy for Boo even after I asked them to move her up to the third grade lessons. She was placed in Kindergarten level alphabet lessons because she apparently failed them in her assessment, and those were a piece of cake. She was also assigned reading comprehension lessons that she enjoyed but were not challenging. Going through the lessons this way, she sometimes had an enjoyable experience but was rarely learning anything, so I ended up using the feature that allowed me to simply assign her specific lessons to work through rather than the ones she had been placed in. The down side of this is that I have to micro-manage exactly what Boo is doing rather than allowing her to progress naturally.
I knew that the area within the reading curriculum Boo has been using where she could use some supplemental practice was letter blends, so I assigned her some lessons to work on them with K5 Learning. These lessons included some good learning activities for her, so I may continue to have her go through them a few times a week. 🙂
Probably my favorite portion of K5 Learning is their custom, printable worksheets. They have flash cards for the sight words she's working on that I printed out, and Boo has been enjoying going through them with me. They also have worksheets to go along with the letter blends that Boo is working on, so I will probably print those out for her to use as well.
Be sure to hop over to the Homeschool Review Crew link-up to see what other reviewers have to say. 

K5 Learning – Online Reading and Math