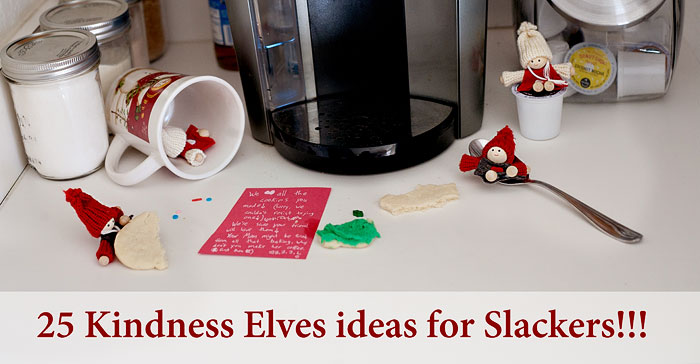 'Ello Poppet! I decided to jump on the whole "Elf" bandwagon this year, but I really like the idea of encouraging my kids to be a bit more others focused, so I decided to go the Kindness Elves route! However, as noble as my intentions may be, I know there is no way on earth I'm going to be able to maintain grandiose acts every day (by which I mean anything that requires me to change out of my pajamas and/or leave the house).  😉
I figured if I was going to attempt to do this thing, I needed a plan. I'm usually a fly-by-the-seat-of-my-pantser, so this whole planning thing isn't exactly my forte. That said, since I actually did come up with amazing, phenomenal fairly decent ideas, I'm thinking I might as well share them in case any one else could use some non-elaborate ideas for acts of kindness. Please tweak the wording and make them sound good….these are more like rough draft ideas than full well-worded notes from your elves.
1. Make coffee for your Mom! -This is my favorite! Our Elves may keep this one in their back pockets as a fall back idea to be used numerous times!!! (In the picture above they posted this the day after we made cookies, and they helped themselves to some, complimented the girls on great cookies, then mentioned Mom might be tired from the day of baking, and encouraged the making of coffee for me her.)  😉
2. Bake sugar cookies and give some to a neighbor. -Only because it's a tradition around here so we have  to do this at some point in December anyway.
3. Text someone just to say hi! -My kids don't have phones, so they'll think it's fun to get to borrow mine and text a granparent or something. 

4. Write your Dad an "I love you because…" note.

5. Write happy chalk greetings on the sidewalk outside to bring cheer to passersby.
6. Donate food to the hungry. -Pro-tip one this on….make it a 2 day endeavor. Day one – select food from your pantry to give. Day 2 – actually give it away. Bonus points if your church does a food drive and you can just take it with you on Sunday morning! 🙂
7. Donate clothes. -Same deal as with food. I'm super bummed that my church did their clothing drive in November, though, so we can't just take these on a Sunday like I'd planned. 🙁
8. Give lots of hugs today!
9. Make a bird feeder for your feathered friends. -I really like these easy bird feeders. Especially this stale bread one, or this cheerio and blueberry one, because then I don't have to buy anything…except blueberries, so I'd probably leave those off. 😉
10. Make some hot cocoa mix for friends. -Don't go crazy. Making enough for one or two friends is plenty. And this hot cocoa mix is simple to make and seriously the yummiest ever!
11. Give lots of compliments today!
12. Pass on some books -Our neighborhood has a little free library, so I can drive up in my jammies and let my girls run over and put in a few books!
13. Make a card for your mail carrier.
14. Make a list of polite, kind words…then try to use them as often as possible!
15. We set out breakfast for you just to be kind (no strings attached). -I'm thinking some of those personal boxes of cereal because we never  have those. Or if Misteris is feeling really energetic, maybe he could run to our neighborhood donut shop before the girls get up and grab a dozen!
16. Go on a walk and pick up any litter you see.
17. You left some toys out last night so we picked them up for you. We loved helping out. Keep your eyes open for ways you  can help out today!
18. Give your family members some cuddles while watching a Christmas movie together!
19. Play a game and cheer for others  to win!
20. Make some playdough to share with your baby sister! -Probably something along the lines of this two ingredient one.
21. Set out a dish of water for your feathered friends.
22. Make a special treat for your Daddy! -For us this means something gluten-free, maybe some fudge or toffee…you could of course make anything. Do this close enough to Christmas Eve that you'll have some left to set out for Santa!
23. Notice when someone around you is unhappy and try to cheer them up!
24. Be kind to your baby sister today by making a point to play with her!
25. Wish Jesus a Happy Birthday! -We have a toy cake that we always set out somewhere for the kids see BEFORE we get to stockings on Christmas morning to take a moment to focus on Jesus' Birthday…I leave it out for them to play with for a month or so then pack it away with the Christmas stuff. 🙂
So….there's my list. It's technically 27 ideas if you break the food and clothes donations into two days each. You could donate toys too, but we did that last month. (By which I mean the kids selected some to give away and they're currently sitting in a box waiting for me to take them somewhere. Oops.)
How awesome will I be at actually doing these? Well with our Advent Calendar, by day two I already forgot about it all day and my girls reminded me after  I sent them to get ready for bed at night, so…yeah. I'm definitely keeping this list of reasons your elf forgot to move handy, because I'm sure I'll need it!
25 Kindness Elves Ideas for Slackers!!!