Hello my friends! I hope you'll be excited as I am about today's post in which I get to share my review of Kwik Stix: Metalix and Neons from The Pencil Grip Inc. (spoiler alert – you could win a set of your own). 🙂
Back in May I had the opportunity to review a Kwik Stix 12 pk and it was pretty much the best thing ever (check out my post to see more about our experience). The official description says "Kwik Stix are solid tempera paint sticks that dry in 90 seconds. With the use of these paints, you no longer need cups of water, paint brushes, or even smocks when painting thus, making the set-up and clean-up hassle free! These paints are AP certified meaning, they are non-toxic and, perfectly safe for young children! They work beautifully on paper, wood, canvas, cardboard, and many other crafting mediums." Basically Kwik Stix are the perfect smash up between markers and paint – and they save me from pulling my hair out  the day when my kids want to do art projects with paint! (Oh, and FYI we've used them on wood and they work great!)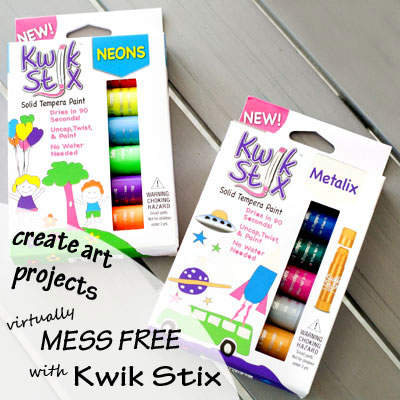 We've used the basic Kwik Stix a ton, so I was ecstatic to be given the opportunity to try out the Metalix and Neon sets and they most definitely did not disappoint!
Let me start with Metalix. Oh my goodness you guys, these are a just a sheer, shimmery bundle of goodness wrapped up in a delightfully non-messy package of warm-gooey deliciousness! Okay they're not actually warm and gooey, but I stand by everything else! Well I mean they're probably not actually delicious either, but you know what I mean. 😉
At some point later I need to make another post walking you guys through the spindiddly craft we did using the Metalix Kwik Stix and a printout of When the Ghosts Come Out to Dance by Natalie Lloyd to make autumn trees, but for now here are some pictures of how gorgeous the Metalix look (except, unfortunately the pics don't quite  do it justice, they're seriously a smidgen more  sparkly-gorgeous in person).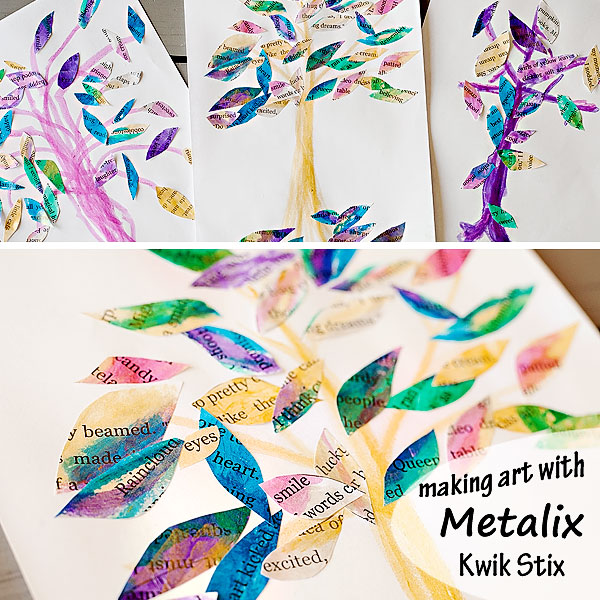 They're also fantastic for Bible Art Journaling! Seriously, these are my current favorite tool to use for my art journaling! It looks super yummy, and you can clearly see the words through the color. Plus it didn't wrinkle the pages and there's barely  any bleed through, far less than watercolors, and even less than just coloring lightly with colored pencils. I think probably if I applied gesso first there wouldn't be any bleed through at all. 🙂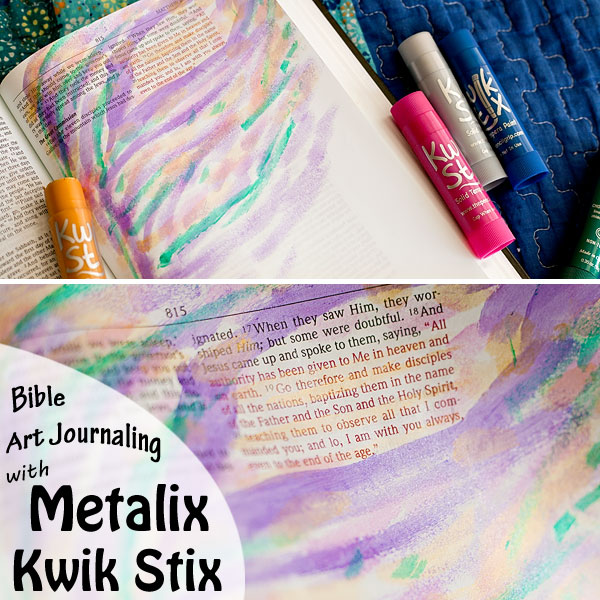 OK, on to the Neon Kwik Stix. These are basically everything I love about the original set I reviewed, but super bright and cheerful! My rainbow-unicorn-kitty loving tween can't get enough of them! If florescent crayons are your kids faves, they'll think these are to die for! I'd seen an idea to tape a fall shape to some paper and let your kids fingerpaint around it, then remove the shape – while that sounded like a fun idea in theory, I had zero desire to actually pull out fingerpaints and deal with that mess, so instead we used our Neon Kwik Stix for the project and my girls had a blast. 😀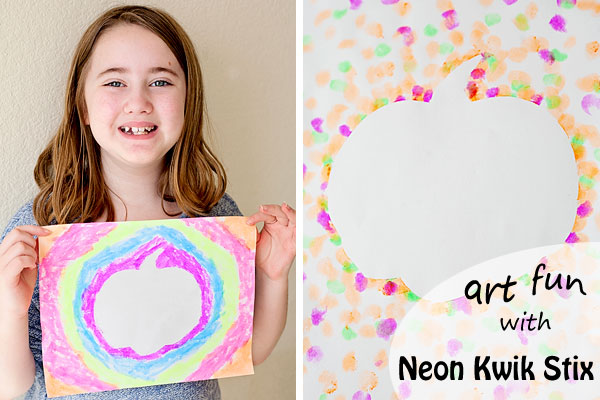 OK, so I'm also really excited that you can now buy Kwik Stix at Target.com! And beginning November 1st, you can buy a 6 pack of Metalix and a 6 pack of Basic colors in  Target Stores! 😀
And now for my favorite part of this post…the part where I get to tell you how you can enter to win a set of Metalix or Neon Kwik Stix of your own!
 The Pencil Grip Inc. is sponsoring a Kwik Stix giveaway for 2 lucky winners!
On November 9th (12 days from today) I will draw two names out of a hat (or use a random number generator or something). The first name selected will receive a 6 pack of Metalix and the second will receive a 6 pack of Neons! 
So without further ado, let me tell you how to enter! You can have up to eight total entries. First of all, simply leave a comment here BAM – you're entered! Yay! Then if you'd like, choose any/all of the following options: comment on my Facebook page about the giveaway, share a link to this post on Facebook and/or Twitter, and pin any or all of the images to Pinterest. For each additional action you take, please leave an additional blog comment letting me know – that way I can easily keep track of everything!
Alrighty – let the entering begin, and may the odds be ever in your favor. 😉

Kwik Stix: Metalix and Neons | Review + Giveaway!