The MyFreezEasy.com Freezer Meal Plan Membership from MyFreezEasy makes freezer cooking simple enough that we've finally managed to make it work for us, even with a baby and a toddler – plus homeschooling and all that jazz!
What it is: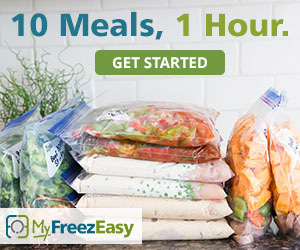 MyFreezEasy Freezer Cooking Meal Plans are downloadable meal plans complete with recipes, a ready-to-go shopping list, and freezer assembly instructions, (plus actual cooking instructions, of course). Following these instructions, we've been able to actually  prepare 10 meals in one hour!!! Most of these meals have very little additional work to do on the day I serve them!
With a basic meal plan you receive eight new meals each month with a choice of the traditional plan or a selection of a number of different types of plans – gluten free, slow cooker, all ground beef, etc. There are highlights videos for each of the meal plan types, and for the traditional monthly meal plan Erin makes a full walk-through video where she cooks the meals alongside you so it's almost like cooking with a friend. 🙂
With my Premium Annual Membership I can not only access all  the different basic options,  I can also create my own meal plan  using any of the meals on MyFreezEasy.com!
How we use it:
So…I used to spend a ridiculous amount of  time several days a week figuring out what we'd eat for the next few days and then piecing together a poorly organized shopping list.  You want a coffee drinking pro, I'm your gal – but meal planning is just NOT one of my strengths. Now, I'm ridiculously blessed because my husband, Mike, likes to cook and is just all around an awesome guy, so he is frequently the one to prepare dinner, yay! But it's still no fun for 30 minutes to an hour every evening to be taken up by getting food on the table for us all to enjoy our girls to take one look at and have a meltdown.  😉
Enter: MyFreezEasy. For our first week I decided to try the pre-made monthly gluten free plan, since gluten makes Mike sick. Doing this completely eliminated any time spent on my part selecting meals for us to eat and putting together a list, plus the list was really well organized. Mike, who also does the shopping, (yes, I know I'm spoiled) even commented about how it was the best put together list I'd ever given him, lol. After setting out all the ingredients, it really did take only about an hour to put together all 10 meals! What?!?! I was thrilled. Usually when something says an hour it seems to take us nearly twice that to actually  do it. And as I mentioned before, with most meals there was next to no prep at all required that day to serve the food that had been prepped. For a majority of the meals I literally just had to either pop it in the oven or the crock pot and put it on the table once it was done, along with a bagged salad or other simple side. Wham-bam thank you ma'am!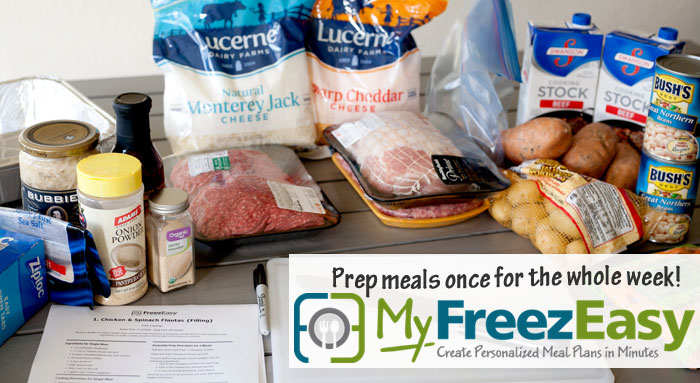 How we like it:
Mike and I are love  how easy to use MyFreezEasy is! I was pretty skeptical about the actual time it would take to prep 10 meals. Before Apple was born we were trying to stock our freezer with meals but it took us an entire afternoon to get like four in our freezer and then we gave up. I wish we'd had our membership to MyFreezEasy.com back then! That said, in our first set of meals there weren't any that we super loved the taste of. The next weekend, I decided to create a custom meal plan for us to try. With the meals that sounded better to me to start with, plus some tweaks to take into account our personal preferences, we were much happier with the results! It only took me about half an hour, max, to look through the recipes and choose ones for our custom plan, and it still only took about an hour to get the meals ready to go in our freezer, yay! I also noticed that every single meal, not just the ones on the gluten free list, have instructions for how to make the meal gluten free. Actually, a ton of them just are  gluten free as long as you serve them with gluten free sides!
All in all, our MyFreezEasy.com Freezer Meal Plan Membership has been really great for us! Since we received our membership, every dinner has been one from the meal plan, and our evenings have been soo much easier without having to spend a big chunk of time making dinner! I'm literally giddy about not having to spend much time meal planning anymore! And with a freezer full of meals, we've not had to resort to picking up Taco Bell for dinner because I neglected to plan anything (or because by the end of the day we're just all too exhausted to actually spend an hour in the kitchen making a meal). 😀
Be sure to check out what other reviewers are saying over at the Homeschool Review Crew link-up! 

Freezer Meal Plan Review!